When Pat Sajak announced that season 41 of "Wheel of Fortune" would be his last, it was another surprise for fans.
Sajak has hosted the game show for over 40 years and tweeted about his departure.
"Well, the time has come. I've decided that our 41st season, which begins in September, will be my last," he wrote. "It's been a wonderful ride, and I'll have more to say in the coming months. Many thanks to you all."
Sajak also poked a little fun at some of his viral headlines in the tweet, noting "(If nothing else, it'll keep the clickbait sites busy!)"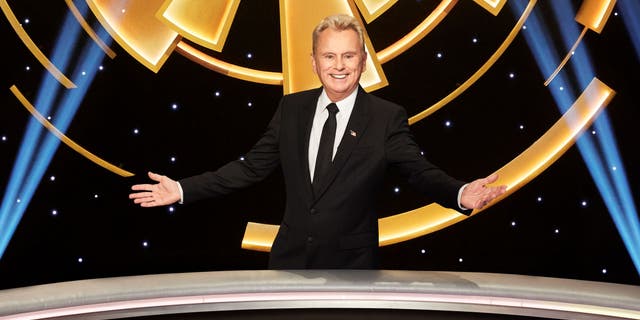 Pat Sajak is stepping away from "Wheel of Fortune" after hosting the show over 40 years. (Ricky Middlesworth)
PAT SAJAK'S 'WHEEL OF FORTUNE' CO-HOST VANNA WHITE, DAUGHTER MAGGIE LOOK TO FUTURE AFTER RETIREMENT NEWS
Fan encounters
In March, Sajak "tackled" a contestant and put him in a headlock during the bonus round to close out the show.
The contestant, Fred, revealed that he has many jobs and hobbies, including professional wrestling.
Earlier this year, Sajak interviewed a contestant with similar features to Santa Claus in a cute but slightly awkward exchange.
"Now, Santa Claus needs help in the holidays. He needs helpers, and I understand you fill that role," Sajak said to the game show player.
"That's right Pat, I've been helping Santa for 25 years," the contestant, Greg, responded.
"Oh! I've never done that," Sajak said.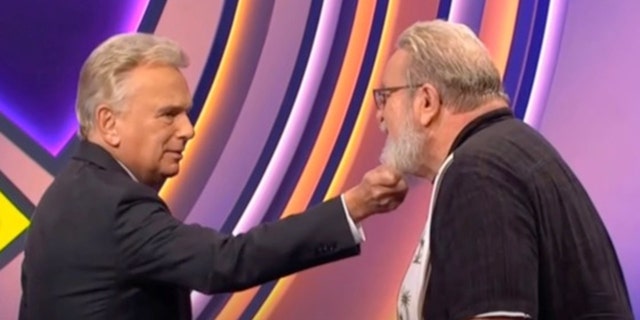 Some fans considered Pat Sajak's moment with "Santa Helper" Greg to be "super cringey." (ABC)
He quickly walked back to his post and joked, "And I will never do it again."
Sometimes, a contestant can't help but celebrate winning a big prize on the show, but some really go for it and bring Sajak into the celebration.
 
 

 
 
View this post on Instagram
 

 
 
 

 
 

 
 
 

 
 

'WHEEL OF FORTUNE' HOST PAT SAJAK JOKINGLY WALKS OFF SET AFTER UNPRECEDENTED GRAND PRIZE WIN
Pranks gone wrong
Sajak often shows his playful side on the show, but sometimes it can go slightly wrong.
During one episode, contestant Ashley revealed she had a rather intense fear of fish, to the point of not wanting to be anywhere near them.
Ashley ended up scoring the most money and was set to move onto the bonus round. Sajak moved to congratulate her. But he first turned to another contestant and said, "I have to go congratulate Ashley. Can you do me a favor? I don't want her to see this, just hold onto this."
He handed the contestant a fake fish to hold.
Fans scolded the long-time host online, one critic calling him "shady" for the prank.
 
 

 
 
View this post on Instagram
 

 
 
 

 
 

 
 
 

 
 

Sajak apparently likes to pull pranks at home too.
During the closing moments of an episode, he was relating a story to co-host Vanna White about celebrating his wife, former model Lesly Brown, on her birthday.
"I do this … this thing I do every one of Lesly's birthdays, and she absolutely hates it," he laughed.
"We put a cake in front of her, she closes her eyes, she makes a wish and when she blows out the candle. I clutch my heart and fall to the ground."
Last month, fans were angry on behalf of Neetu Varshney on a "Toss Up" puzzle they say she got correct.
She appeared to say, "In a moment's notice" and Sajak rejected her guess. A fellow contestant buzzed in and said, "At a Moment's Notice," the correct answer.
'WHEEL OF FORTUNE' HOST PAT SAJAK JOKES ABOUT STALKING VANNA WHITE IN CHEEKY EXCHANGE
Another told Sajak to "clean your ears," suggesting the host misheard Varshney because of her accent.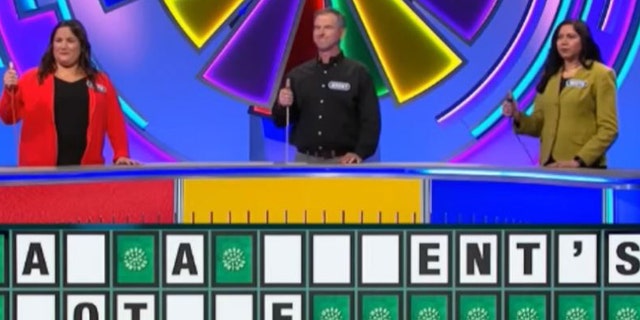 Fans online claim Pat Sajak misheard contestant Neetu Varshney, leading her to miss out on a "Toss Up" puzzle. (Wheel of Fortune/ABC)
Fans accusing Sajak of mishearing people is a common refrain online.
In April, contestant Alexa was competing in the bonus round, trying to solve the puzzle in the category "What Are you Doing?"
After she gave her first answer, Sajak said "Say —," but she cut him off with her continued guesses. He could have been requesting that she repeat her answer. Ultimately, Sajak and the judges decided she didn't give the right response.
She took home prize money from earlier rounds but lost out on $100,000.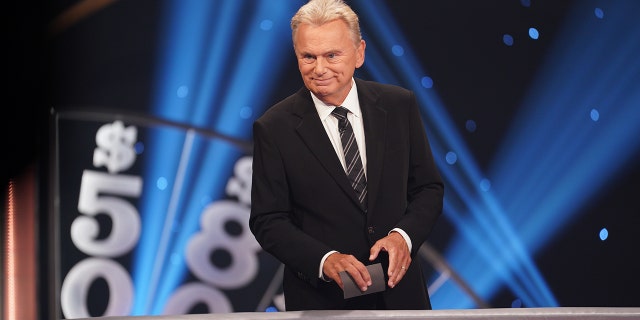 Pat Sajak has hosted "Wheel of Fortune" since 1981 and often bears the brunt of fan outcry online. (Christopher Willard)
Sajak has no real control over how contestants perform. In a recent episode, he teased a contestant about drawing out the drama of a puzzle solve.