The White House responded Thursday after Sen. Joe Manchin, D-W.Va., sank President Biden's nominee to oversee federal energy efficiency regulations.
On Wednesday, Manchin, who chairs the Senate Energy and Natural Resources Committee, abruptly canceled a vote to consider Biden's nomination of Jeff Marootian to lead the Department of Energy's (DOE) Office of Energy Efficiency and Renewable Energy (EERE). The White House, though, is defending its DOE nominees, saying the president will continue to stand by them.
"The president stands by his well-qualified nominees to do the important work of DOE," a White House official told Fox News Digital on Thursday.
The official declined to say whether Biden would withdraw Marootian's nomination.
BIDEN ADMIN RECEIVES BACKLASH FROM NEARLY TWO DOZEN GROUPS FOR MOVE CRACKING DOWN ON GAS STOVES
Granholm said last year that Marootian would be a "natural fit to lead the Department's largest applied energy office" and help the administration meet its "bold clean energy goals." However, Senate Energy and Natural Resources Committee ranking member John Barrasso, R-Wyo., opposed the nomination, saying Marootian was more qualified for a Transportation Department role.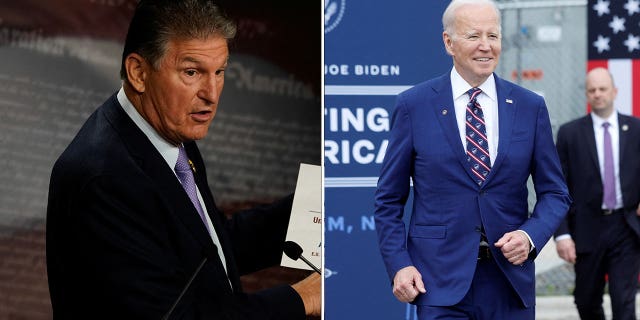 Sen. Joe Manchin has increasingly pushed back on President Biden's climate agenda over the last several months. (Reuters/Elizabeth Frantz | Reuters/Jonathan Ernst)
Since Marootian was hired to advise Granholm on energy efficiency and since his nomination was returned to the White House, though, the DOE has pursued a number of energy efficiency regulations impacting several household appliances, including natural gas-powered stovetops, that have been criticized by consumer advocates as overreach.
"While I appreciate that these rules would only apply to new stoves, my view is that it's part of a broader, administration-wide effort to eliminate fossil fuels," the West Virginia lawmaker continued. "For that reason, I'm not comfortable moving forward with Mr. Marootian at this time."