The White House on Thursday condemned Russian President Vladimir Putin's decision to station tactical nuclear weapons in Belarus, calling the move "irresponsible."
Putin on Saturday revealed Russia will place the nuclear weapons in the allied country in retaliation for the U.K.'s decision to provide Ukraine with armor-piercing rounds containing depleted uranium. Russia has falsely claimed these rounds have nuclear components.
White House press secretary Karine Jean-Pierre acknowledged the reports of Putin's decision during Thursday's press briefing and said President Biden will "continue to monitor, certainly, the implications here."
"We have not seen any reason to adjust our own nuclear posture," Jean-Pierre said, adding there is no indication Russia is prepared to use nuclear weapons.
Putin claimed Russia wouldn't be violating the international agreement on the nonproliferation of nuclear weapons with the construction because he said the U.S. frequently deploys its nukes in NATO countries.
Russia stationed troops in Belarus along the border with Ukraine a year ago under the guise of routine military exercises before invading in February 2022.
UKRAINE WAR THROWS WRENCH IN MASSIVE RUSSIAN ARMS DEAL AFTER THEY MISS DELIVERY, INDIA SAYS
Belarus President Alexander Lukashenko said the tactical nuclear weapons were already en route to his country after he and Putin signed the order, though the Kremlin has not confirmed the report.
UN DENOUNCES ALLEGED TORTURE, HUMAN SHIELDS, OTHER WAR CRIMES IN UKRAINE CONFLICT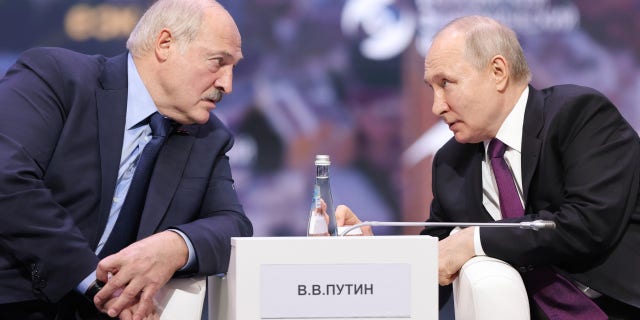 In this photo released by the Roscongress Foundation, Russian President Vladimir Putin, right, and Belarusian President Alexander Lukashenko talk during the plenary session of the Eurasian Economic Forum in Moscow May 24, 2023. (Vyacheslav Viktorov, Roscongress Foundation via AP)
"The movement of the nuclear weapons has already begun," Lukashenko told reporters, according to Reuters. Asked if the weapons were already in Belarus, he said, "Possibly. When I get back, I will check."
Fox News' Brie Stimson, the Associated Press and Reuters contributed to this report.