Strong winds have fanned flames at a wildfire on a German military training site that is known to contain large amounts of ammunition, causing it to double in size, officials said Monday.
MICHIGAN WILDFIRE THAT BURNED OVER 3 SQUARE MILES SPARKED BY CAMPFIRE
The fire near Jueterbog, south of Berlin, had been simmering for days as authorities scrambled to prevent it reaching surrounding villages.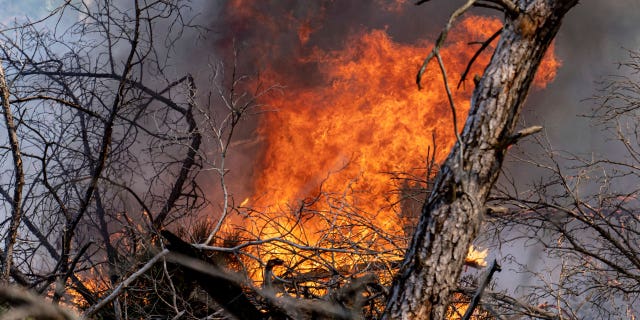 Strong winds have doubled the size of a wildfire in eastern Germany, which has now consumed a Brandenburg military base known to store large quantities of ammunition. (Fabian Sommer/dpa via AP)
Firefighters have cleared large strips of land to contain the blaze but are avoiding the training grounds itself, where several explosions were heard Monday, officials said.
Meteorologists say rain predicted for the coming days may lower the threat of wildfires again.