As an adult, summer is the season for soaking in the sunshine, enjoying a beer and having toes tucked in the sand, grilled ribeye steaks and campfires when the kids go to bed.
For millennial adults, these summer events looked a little different back in the '90s.
Kids spent summer days splashing around the public pool playing "Presidents" in the water and nights covered up in blankets at the drive-in. Hopscotch and chalking sidewalks kept children busy for hours, while rollerblading was the best source of travel.
If you're looking for a summer filled with nostalgia, there is no better way to bring it all back than simply experiencing it all over again.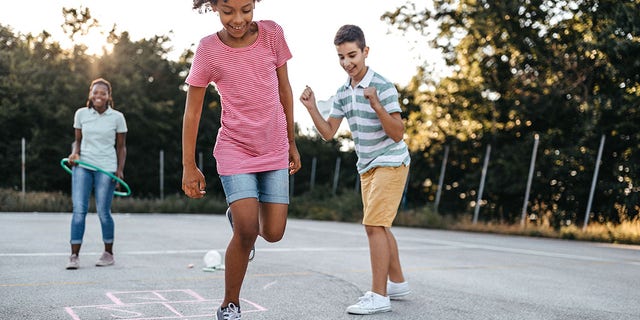 Hopscotch was a popular summer activity for kids in the '90s (and in many earlier decades, too). (iStock)
Create a sidewalk chalk masterpiece
Strap on rollerblades or purchase a scooter
Attend a drive-in movie
Play games at an arcade
Cool off with a sprinkler
Buy a frozen treat from the ice cream truck
Visit the public pool
Spend a night or two camping
Ride the beach waves with a boogie board
Start a lemonade stand
Get the squad together for a pickup softball game
Play ghost in the graveyard or tag
Rent a dunk tank for your summer party
Have a water balloon fight
1. Create a sidewalk chalk masterpiece
Creating art using sidewalk chalk has evolved enormously since the '90s. There are many chalk types and a number of them are specifically designed for sidewalk chalk artists.
Cream and liquid chalks provide a smoother transition onto pavement — and with these elegant products, you can't imagine drawing outside the lines.
Though chalk is more innovative than ever before, the idea of chalking the sidewalk is still the same. Spend hours outside scraping away at the last, tiny bit of chalk.
Often, roller rinks were a go-to spot for birthday parties. Scooters were one of the many ways you skinned your knees or scratched up the backs of your ankles all summer long.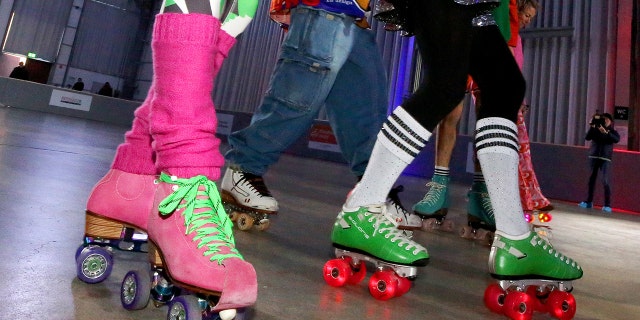 Many kids in the '90s would head to the roller rink to hang out with friends and family. (Roland Weihrauch/picture alliance via Getty Images)
Roller rinks still exist and both blades and scooters have evolved in a mega way in the last few decades.
Motorized scooters and electric rollerblades, AKA hoverboards, are hugely popular, but nothing truly beats the freedom of doing the work yourself.
While any small or large SUV is great for enjoying a drive-in movie, trucks are ideal. Set up the bed of the truck for a date night or the whole gang, including kids, and comfortably separate the family.
1980S AND '90S FASHION: ROUND-UP OF WARDROBE CHOICES THAT ARE TRENDIER THAN EVER
For an extra comfortable experience, put down a blow-up mattress and cover it in blankets. And if your car is too small to back it in and watch with the trunk open, pack chairs or blankets and set up next to the car.
While Roll and Score was released in the early 1900s and Pop-A-Shot was first invented in the early '80s, they were popular among arcade goers in the '90s.
Bring friends or family and score tickets with skee-ball, Spider Stompin' and Buzzy Buzzy and go for the prized big teddy bear this time.
5. Cool down with a sprinkler
Sure, pools are fun and super relaxing, but if you were a kid in the '90s there were few things more exciting than your parents hooking the hose up to a sprinkler on a hot summer day.
If your first internal emotion is excitement, you'll need to catch the truck next time it rolls around.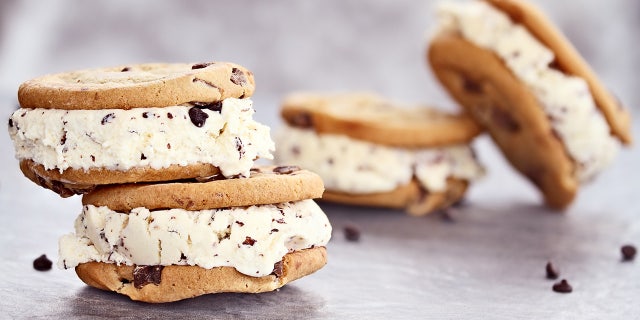 Next time you hear an ice cream truck coming down the road, consider grabbing yourself a treat.
Bonus points to the ice cream trucks that still have Powerpuff Girls or Tweety bird popsicles with gumballs as eyes.
7. Visit the public pool
Maybe you've purchased a home with a pool or your apartment building offers a community one. While that's ideal, there's nothing like visiting a public pool and being back in the company of your neighbors.
Meet up with friends and spend the day soaking in the sun and concession stand food you wouldn't dare buy for your home today.
Oreo cookies and peanut butter
Cards to play poker and a sock full of change
A nearby lake
Prank war ideas
9. Ride the beach waves with a boogie board
If you weren't a talented surfer as a kid, but you wanted to play around in the water, maybe even try to stand up and balance, you likely did so on a boogie board.
If the trial and error of successfully balancing ended with your childhood, then this might be the perfect time to bring out the boards and try again.
Take them to the beach or toss them in the pool.
If you're hoping to collect cash for a good cause, a lemonade stand could be a great opportunity to promote it in your neighborhood. Charge a reasonable price for the lemonade and offer materials to people to learn more.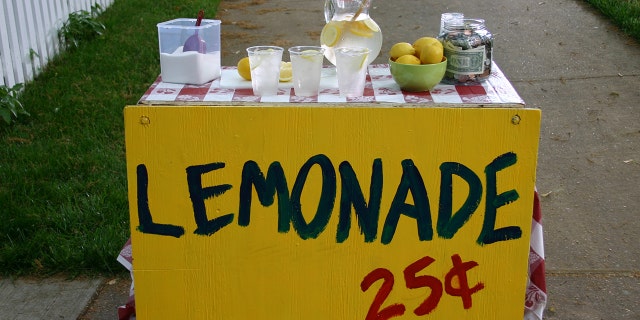 Lemonade stands were popular activities for kids in the '90s.
11. Get the squad together for a pickup softball game
While local parks with baseball fields are often flooded with community leagues all summer long, there are times of the day that no one is playing.
Find out when fields are empty, bring the squad together and compete in a pickup game of softball.
Head to the fields you used to play on yourself as a kid when the sun was hot and summer was in full swing. Pick two captains and select teams when everyone arrives or compete with another group of people who are also looking to play just like start of "The Sandlot" film.
Similarly, ghost in the graveyard was a popular '90s game played by kids after dark before they had to head home. If you didn't as a child, you can start now.
The rules of the game are simple. Get a group of at least three people together, designate the playing area and choose a ghost.
CLICK HERE TO SIGN UP FOR OUR LIFESTYLE NEWSLETTER