Rep. Adam Schiff, D-Calif., vowed to wear a censure vote by House Republicans as a "badge of honor" Wednesday in an exclusive interview with Fox News.
House Speaker Kevin McCarthy is poised to hold a notice vote on censuring Shiff on Wednesday, with the final vote taking place on the House floor later in the day. Censure is the second most serious form of discipline a representative can face in Congress, following only expulsion.
When asked by Fox News for his thoughts on the censure, Schiff expressed pride, claiming that it validates the actions he took.
"I take it as a badge of honor because this says that I'm effective," Schiff said." They go after people that they think are effective, I exposed the corruption of former President. I led the first impeachment trial of the former president to the first bipartisan vote to remove a president and U.S. history."
Schiff went on to argue that former President Trump's attempt to overturn the results of the 2020 election validated his actions in the investigation.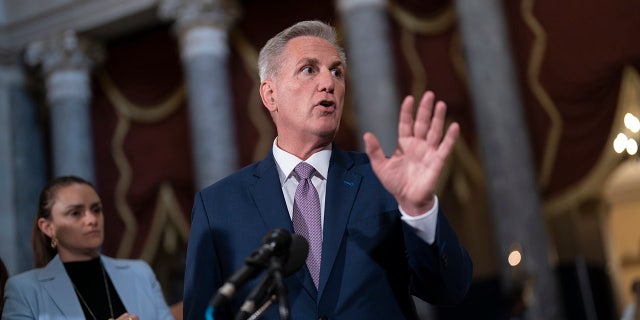 Speaker of the House Kevin McCarthy, R-Calif., is expected to lead the House in censuring Rep. Adam Schiff this week. (AP Photo/J. Scott Applewhite)
"I warned the first trial, that if it didn't hold Donald Trump accountable, that he would go on to try to do worse in the next election, and he did, leading to a violent insurrection against the U.S. Capitol," he said.
"To be admonished by Kevin McCarthy and like–it is an honor. These are the authors of the Big Lie, who attacked me for telling the truth, and I'm proud to stand up to them," he concluded.
Wednesday's process marks the second attempt by Republicans to formally censure Schiff. A previous attempt failed earlier this month because it included a $16 million fine against the lawmaker. Twenty Republicans joined Democrats in voting to table that measure.
CLICK HERE TO GET THE FOX NEWS APP
Rep. Anna Paulina Luna, R-Fla., has now revamped her notice to censure to remove the fine, and will speak about the move on the House floor on Wednesday.