The challenge proffered by Joe Rogan, Elon Musk and others to a prominent vaccine scientist to debate Robert F. Kennedy, Jr., doesn't appear like it will be accepted, but Kennedy's campaign said regardless he's already been invited back on Rogan's program.
Dr. Peter Hotez has said he'd go on Rogan's hugely popular podcast again but doesn't wish to debate Kennedy, a 2024 Democratic presidential candidate and one of the nation's most well-known vaccine skeptics. Hotez ripped Kennedy's recent appearance on "The Joe Rogan Experience" as "awful" and a torrent of misinformation on vaccines, leading Rogan to fire back with a six-figure charitable offer to convince him to debate Kennedy on the subject.
Musk chimed in that Hotez was afraid of a public debate, and others also came in with big-money offers to pressure him to show up. Hotez's defenders said it would only elevate fringe views from Kennedy, who has come under fire for spreading conspiracy theories like linking childhood vaccinations to autism. He has won new fans on the right for his criticism of establishment medical figures and COVID-19 vaccines.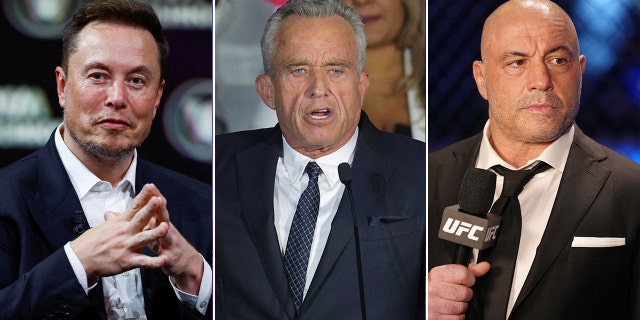 Elon Musk, Robert F. Kennedy Jr. and Joe Rogan  (( Left: REUTERS/Gonzalo Fuentes/File Photo, Center:  REUTERS/Brian Snyder, Right: Photo by Jeff Bottari/Zuffa LLC via Getty))
Hotez, who has appeared frequently on CNN and MSNBC over the course of the pandemic, told MSNBC's Mehdi Hasan on Sunday he didn't want to get into a "Jerry Springer Show" situation and thus wouldn't debate Kennedy on Rogan's program. As the situation drew more attention online, an independent journalist and vaccine skeptic confronted Hotez at his home and asked why he wouldn't debate Kennedy. Hotez has taken criticism from conservatives for pushing aggressive mask and vaccine mandates during the pandemic, as well as delaying school re-openings.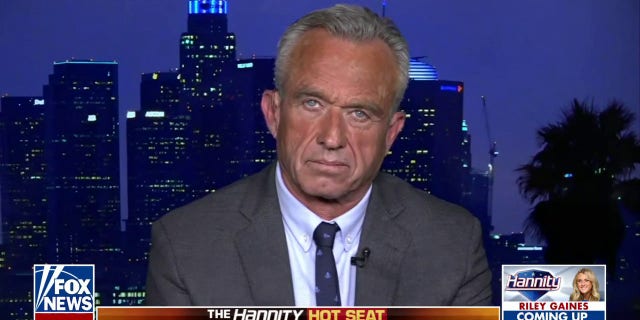 Robert F. Kennedy Jr. (Fox News/Hannity)
"Mr. Kennedy is sympathetic to this challenge," the campaign said. "People like Dr. Hotez who harangue the public about the safety and efficacy of Covid vaccines should be prepared to defend their views in public as well. The American people deserve to hear both sides make their case."
The campaign said Kennedy was "eager" to debate Hotez or any other representative of "Big Pharma's perspective." It also revealed Rogan's show was going to bring Kennedy back for a yet-unannounced show, although it appeared "no prominent mRNA vaccine advocate seems willing to debate him" so "the show will be a conversation rather than a debate."
NBC REPORTER CLASHES WITH RFK JR. IN TENSE INTERVIEW ABOUT CANDIDACY, VACCINES: 'MAYBE YOU'RE NOT' A DEMOCRAT
She added they had been lumped in with MMR [measles-mumps-rubella] and other childhood vaccines, leading to declining vaccination rates and rising cases of diseases that had previously been essentially eradicated, like polio and measles.
Fox News contributor Dr. Marc Siegel said that even in the medical community, "we don't think everybody is an expert on everything."
CLICK HERE TO GET THE FOX NEWS APP