Attorneys for convicted killer Alex Murdaugh asked a judge Tuesday to vacate an agreement their client made to pay the Satterfield estate $4.3 million after their longtime housekeeper died in a slip and fall.
Gloria Satterfield passed away in 2018 after she fell down the stairs of the Murdaugh family's former South Carolina residence known as Moselle.
Murdaugh repeatedly lied to insurance investigators by claiming that the family's dogs had tripped the 57-year-old, causing her to hit her head, his lawyers Dick Harpootlian and Jim Griffin wrote in the latest filing.
South Carolina law imposes strict liability on dog owners when their dogs knock someone down, leading to a larger insurance payout, according to the motion.
The sons' attorney, Eric Bland, recovered in excess of $7.5 million for the theft – none of which came from the insurance companies.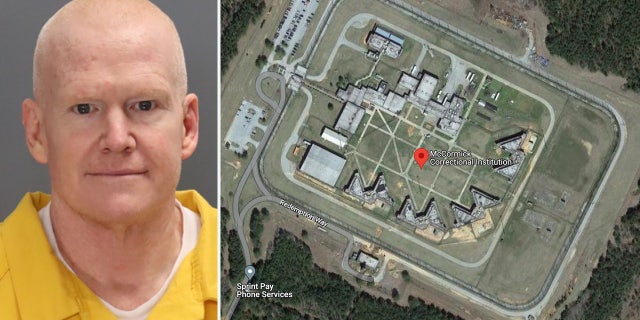 Alex Murdaugh is serving two life terms at the McCormick Correctional Institution in South Carolina for the murders of his wife, Maggie, and his son, Paul, June 7, 2021. (South Carolina Department of Corrections/Google Maps)
Murdaugh was arrested in 2021 for the alleged theft and agreed to sign the $4.3 million confession of judgment if Bland didn't oppose his release on bond, argued Harpootlian and Griffin. Murdaugh hadn't yet been arrested for his wife and son's murders.
The lawyers added that the confession would "impede any attempts by the insurance companies to recover the insurance proceeds they erroneously paid out for Ms. Satterfield's death."
Murdaugh has nothing to gain by setting the record straight, the lawyers contend, because all his assets are in a receivership.
ALEX MURDAUGH: TIMELINE OF ONCE-POWERFUL SOUTH CAROLINA LAWYER'S SPECTACULAR DOWNFALL
If the confession of judgment is vacated, more money would simply be available for restitution to his victims.
He added that Murdaugh freely gave the judgment under the advice of the very lawyers that are now trying to have it vacated.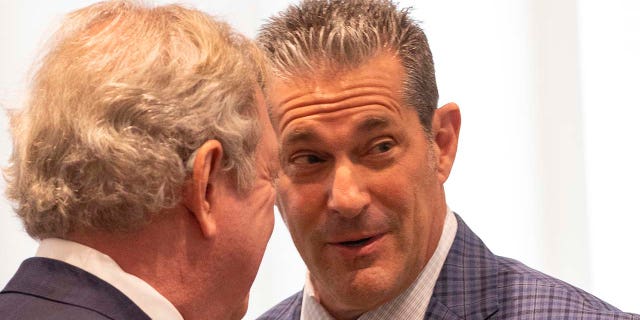 Dick Harpootlian and Eric Bland talk in Alex Murdaugh's trial for murder at the Colleton County Courthouse on Feb. 9, 2023. (Andrew J. Whitaker/The Post and Courier/Pool)
Murdaugh was sentenced to two life terms in March for fatally shooting his wife, Maggie, 52, and his son, Paul, 22, June 7, 2021.
CLICK HERE TO GET THE FOX NEWS APP