A serious heat wave continues to ravage Europe, hitting near-record temperatures in some parts along the Mediterranean coast as officials issue safety warnings.
"Repeated high nighttime temperatures are particularly dangerous for human health because the body is unable to recover from sustained heat," John Nairn, senior extreme heat adviser for the U.N.'s World Meteorological Organization (WMO), told reporters in Geneva.
"This leads to increased cases of heart attacks and death – that's not the only diseases that we see, but they're the notable ones," Nairn added.
The European Union's Copernicus Climate Change Service said 2021 and 2022 had seen the hottest summers on record, but experts warned that temperatures on Wednesday could hit or even breeze past that record, the Washington Post reported.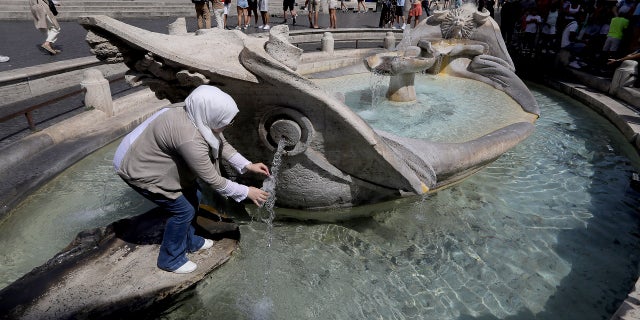 A woman fills her bottle at the Barcaccia Fountain during a sultry day in Rome, Italy, on July 18, 2023. (Pablo Esparza/Anadolu Agency via Getty Images)
One traveler from Norway told Reuters that she felt pain in her head while her legs and fingers swelled up due to the extreme heat, forcing her and her husband to end their trip early.
Dr. Marc Siegel, clinical professor of medicine and practicing internist at NYU Langone Medical Center and Fox News contributor, told Fox News Digital that travelers must be "ultra conscious" and aware of the conditions in Europe as they look to visit the continent.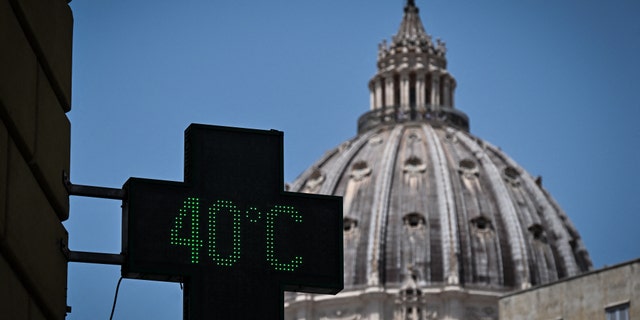 A pharmacy's sign indicates the outside temperature in Rome, with the dome of St. Peter's Basilica in the background, on July 19, 2023. (Tiziana Fabi/AFP via Getty Images)
"Number one is hydration, especially since you get dehydrated on planes: If facing heat waves, you should always have a bottle of water in your hand," Siegel said. "Travelers should be ultra conscious of hydration," and whether any medication they are taking can make them "sun sensitive."
"All things being equal, now is the time to go to an ocean beach like Santorini rather than the Acropolis right now," he suggested.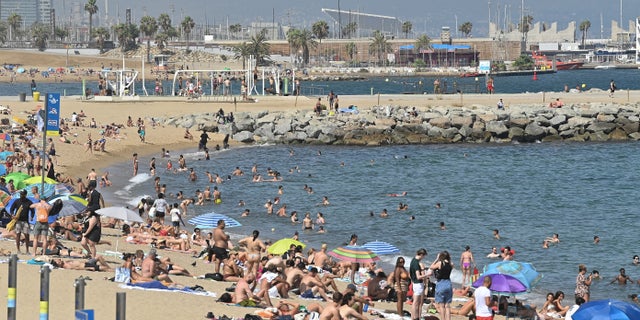 The beach in Barcelona on July 18, 2023, as Spain issued hot weather red alerts for three regions due to the "extreme" danger posed by scorching temperatures. (Pau Barrena/AFP via Getty Images)
Officials expect temperatures to peak on Wednesday, but over the weekend temperatures hit near 104 degrees Fahrenheit, and Sicily recorded 115 degrees – just shy of the 2021 record of just under 120 degrees.
MOUNTAIN BIKER DIES IN CALIFORNIA AFTER HELPING DEHYDRATED HIKERS IN TRIPLE-DIGIT HEAT
CLICK HERE TO GET THE FOX NEWS APP
The World Meteorological Organization reported that 60,000 people died from extreme heat in summer 2022 despite warnings and health action plans.
"Heat is a rapidly growing health risk due to increased or rapid urbanization, the increasing extreme temperatures and an aging population," Nairn claimed, adding that the current weather patterns are "not normal" and will continue to have "quite serious impacts on human health and livelihoods."