"America's Got Talent" winner Michael Grimm has been hospitalized and remains unconscious as he battles a serious unknown illness.
The 44-year-old blues singer, who won season 5 of the talent competition series, was admitted to an intensive care unit, where he was sedated and placed on a ventilator after falling ill Memorial Day, according to his wife, Lucie Zolcerva-Grimm.
Zolcerva-Grimm, who is also Grimm's manager, addressed his friends and fans in an 11-minute clip she uploaded to the musician's Instagram page Wednesday.
"I know you all love Michael, and while I want to protect his privacy and his request to not disclose anything, we're kind of in a situation," Zolcerva-Grimm said while tearing up. "It's been an emotional ride.
"Whatever the issue was, on Memorial Day, it kind of took him over," she said. "He was looking increasingly sickly. All of a sudden, he could barely walk, couldn't lift his head. He couldn't respond right away to me. When I would ask him things, he would get really fuzzy."
Zolcerva-Grimm said she then rushed her husband to an emergency room because she feared he might be having a stroke.
"That wasn't the case, luckily," she said. "Whatever was going on in his body from whatever — toxins, I guess — they were going to his brain. He started talking gibberish, and all of a sudden, like physical tremors were setting in, his blood pressure was skyrocketing. He became really agitated with the medication he was given, and they had to put him in ICU.
"Michael has been in ICU a week for the safety of his health," Zolcerva-Grimma continued. "They had to put him on a ventilator and sedate him pretty heavily so that he wouldn't stroke out, so that he wouldn't flatline."
Zolcerva-Grimm added that Grimm was taken off the ventilator Wednesday and was breathing on his own.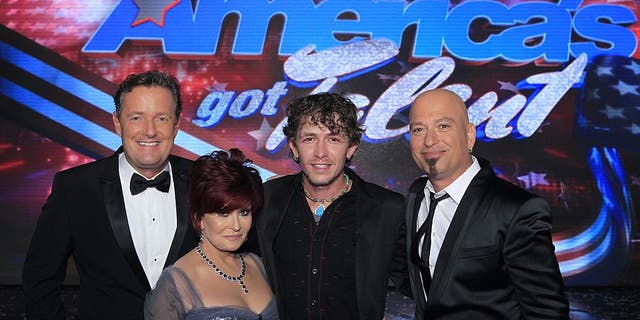 During the "AGT" finals, he told judges Piers Morgan, Sharon Osbourne and Howie Mandel his performance of "When A Man Loves A Woman" was inspired by Zolcerva-Grimm. (Trae Patton/NBC/NBCU Photo Bank)
She said Grimm's doctors have not yet been able to diagnose his illness.
CLICK HERE TO SIGN UP FOR THE ENTERTAINMENT NEWSLETTER
"Michael will have to not only come back to full consciousness, which he's not yet, he will also have to now undergo physical therapy because he's been bedridden for over a week," she said.
"He currently has no voice. He's got to go under vocal cord repair from time being on the ventilator and get all his organs back up and all his muscles working again. Mentally, he needs to come back from this and return to a state of health.
"Have Michael in your hearts and prayers and love," she said. "He loves all of you guys. Stay strong."
The Mississippi native proposed to Zolcerva-Grimm during an appearance on "The Ellen DeGeneres Show" the day after he was named the winner of "AGT" in 2010. The pair tied the knot in 2011.
During the finals, he told judges Piers Morgan, Sharon Osbourne and Howie Mandel his performance of "When A Man Loves A Woman" was inspired by Zolcerva-Grimm, his girlfriend of three years at the time, per People magazine.