New Jersey's restrictive handgun carry law is back in effect thanks to an order from the U.S. Third Circuit Court of Appeals.
A three-judge panel voted 2-1 to permit the ban on carrying guns in so-called sensitive places to take effect, partially reversing a district court injunction on parts of the law U.S. District Judge Renée Marie Bumb had deemed "plainly unconstitutional."
The appeals court order will allow state officials to enforce the law, which bans lawful carry of firearms in certain places. Among the places covered by the court's order are: within 100 feet of certain public gatherings, zoos, bars and restaurants and certain entertainment facilities.
GUN DEALERS FORCED TO SELL GUN LOCKS UNDER NEW DEMOCRAT BILL: 'LEGISLATION THAT WILL SAVE LIVES'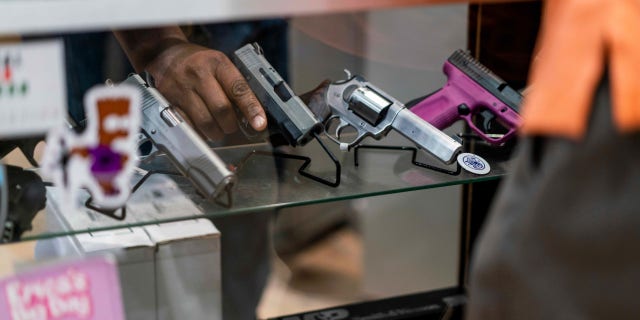 A customer views a Smith & Wesson M&P40 handgun for sale at a gun store. New Jersey's restrictive gun law prohibits concealed carry of firearms in designated "sensitive places." (Kyle Grillot/Bloomberg via Getty Images)
"We are extremely gratified that the Third Circuit recognized what we have always said: New Jersey is likely to win this case because our sensitive-places law complies with the Second Amendment," said New Jersey Attorney General Matthew Platkin. The "Third Circuit correctly stayed the district court's dangerous injunction that allowed individuals to carry weapons into places like parks and zoos, libraries and museums, bars and casinos, and permitted demonstrations. This is a tremendous win for public safety, and we will continue fighting for our law."
The 2022 law stemmed directly from the U.S. Supreme Court's June decision that struck down a New York state law requiring people to show proper cause to get a carry license. The ruling affected states with similar laws, including New Jersey, where carry applicants had to show justifiable need to get a permit.
AMID FENTANYL CRISIS, BIDEN SAYS MEXICAN PRESIDENT IS ASKING US TO STOP SENDING GUNS
"Because of this decision, guns will not be allowed to proliferate in locations such as parks, beaches, libraries, bars, and restaurants where alcohol is served," he continued. "This decision will make New Jersey a safer state for all of us and will ensure that New Jersey continues to have among the lowest rates of gun violence in the nation."
The Associated Press contributed to this report.