The City of Atlanta agreed to a $105,000 settlement with a photojournalist who was arrested while shooting pictures of a protest in May 2020, just days after Minneapolis police killed George Floyd.
The University of Georgia (UGA) School of Law's First Amendment Clinic and civil rights attorneys Gerald Weber and Leigh Finlayson secured the settlement with the City of Atlanta on behalf of Sharif Hassan.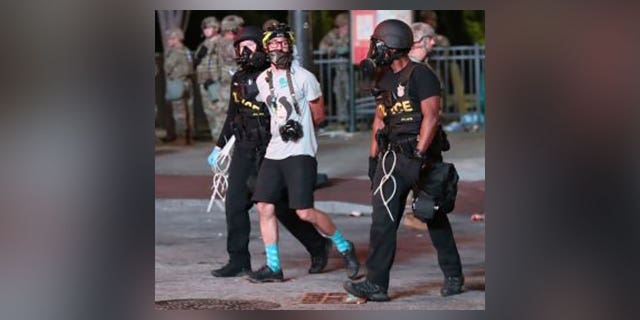 Photojournalist Sharif Hassan was arrested on June 1, 2020, while covering a Black Lives Matter protest in Atlanta, after a city-imposed curfew.  (UGA First Amendment Clinic)
George Floyd's death on May 25, 2020, sparked protests in cities across the U.S., including Atlanta.
OVER 100 HARVARD PROFESSORS AND STAFF STAND UP FOR FREE SPEECH WITH NEW COUNCIL: 'WE ARE IN A CRISIS TIME'
In response to the protests, Atlanta Mayor Keisha Lance Bottoms ordered a blanket curfew in the city on May 29, 2020, that began at 9 p.m., and unlike similar curfew orders, it did not provide an exception for members of the media.
On June 1, 2020, Hassan was photographing the Black Lives Matter (BLM) protests in downtown Atlanta.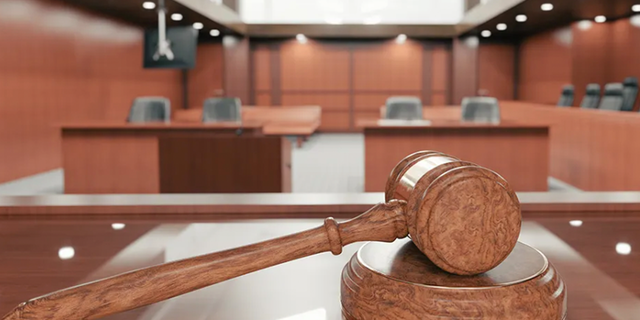 Inside a courtroom with gavel in view.  (iStock)
According to a press release from the UGA School of Law's First Amendment Clinic, Hassan was "forced to the ground and handcuffed" seconds after he started taking pictures of police arresting someone on a public street.
MICHIGAN SCHOOL DISTRICT FACES LAWSUIT AFTER FORCING STUDENTS TO REMOVE 'LET'S GO BRANDON' SWEATSHIRTS
The release said Hassan repeatedly identified himself to police as a working journalist, yet he was still placed under arrest for violating the mayor's curfew.
Still, members of other media outlets were able to gather news in the area after 9 p.m., and without police interference.
Hassan was jailed for several hours while still handcuffed, the release noted, and he faced criminal prosecution for more than six months. Then, the City of Atlanta dropped the charges against Hassan for what it said were "evidentiary reasons."
FIRED COLLEGE PROFESSOR WHO OPPOSED SOCIAL JUSTICE INITIATIVES SPEAKS OUT: 'STATE-FUNDED SMEAR CAMPAIGN'
In response, Hassan sued the city for violating his First Amendment right to record police in a public place.
"I brought this lawsuit to hold the City accountable for hastily creating a police state while leaving our rights as journalists as an afterthought," Hassan said. "Clarity and communication during these times [of public discourse] is critical for the safety of citizens, journalists and police officers. Unlawful arrest while being separated and handcuffed through the night is something that should not happen to members of the press. The goal is to ensure that our rights are protected in the future."
Along with reaching a $105,000 monetary amount, the settlement also includes language to consider media in any future curfew orders imposed by the mayor of Atlanta.
Both parties agreed that if a city-wide curfew is necessary, the city's law department may consider including text that working members of the media are exempt from the curfew as long as they do not intentionally impede or disrupt law enforcement activities.
CLICK HERE TO GET THE FOX NEWS APP
"This resolution sends an important message that First Amendment rights must be protected, including, and especially, during times of political and social upheaval," First Amendment Clinic director Clare Norins said. "It is essential that working members of the media be allowed to observe and report on matters of public concern, including after-curfew interactions between civilians and the Atlanta Police Department."