Deputies from the Washoe County Sheriff's Office assisted in freeing a bear after it was found trapped inside a vehicle in South Lake Tahoe, California, according to TMX.
The officers received a call from Lake Tahoe residents after notifying the deputies they had "discovered a bear stuck inside their vehicle," the Washoe County Sheriff's Office in Incline Village, Nevada, told TMX.
A deputy onsite captured the moment he tied a piece of rope to the SUV door handle and, from a safe distance, opened the door.
CONNECTICUT FAMILY FINDS BLACK BEAR HIBERNATING UNDER THEIR OUTDOOR DECK: 'NOT BOTHERING US'
'LAW-ABIDING' BEAR CROSSES STREET LIKE A PRO IN NORTH CAROLINA, VIDEO SHOWS
"Spring is an active time for our Tahoe bear population and a good reminder to be bear-aware when enjoying the beautiful outdoors," the sheriff's office shared with TMX.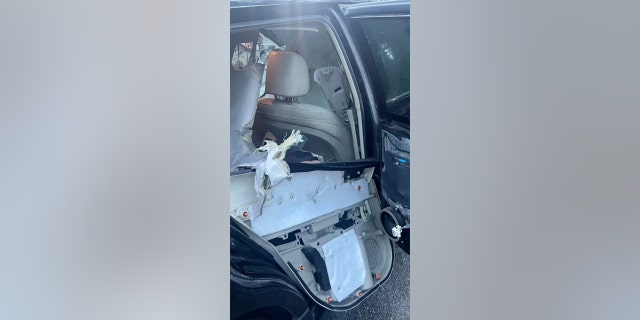 The vehicle appeared to be damaged after the bear was released from accidental entrapment. (Washoe County Sheriff's Office/AMAZING ANIMALS+ /TMX)
"Be mindful of food wrappers, coolers, and scented items in vehicles. Avoid leaving food in cars. Don't leave garbage outside, and dispose of trash inside (not next to) bear-proof designated receptacles," the sheriff's office told the media organization.
CLICK HERE TO SIGN UP FOR OUR LIFESTYLE NEWSLETTER
The state's wildlife department has shared a variety of tips for homeowners who are "living with bears."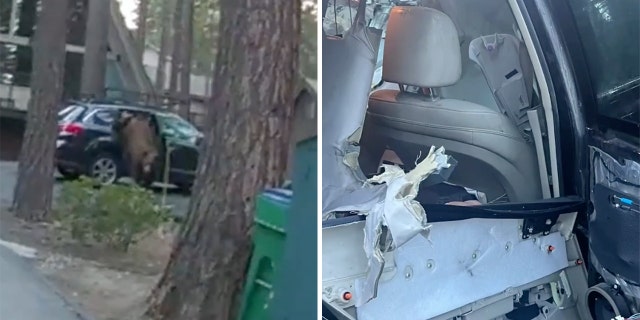 The California Department of Fish and Wildlife is advising the public to keep car windows and doors closed and to avoid leaving food nearby or inside vehicles. (Washoe County Sheriff's Office/AMAZING ANIMALS+ /TMX)
"Keep doors and windows closed and locked when unoccupied. Remove unsecured trash, food, and strongly scented items (e.g., sunscreen) from vehicles and yard," the wildlife department shared.