Some Jewish conservatives are joining forces to combat what they say is the left's intellectually dishonest shielding of Democrat megadonor George Soros.
Former federal prosecutor Will Scharf and Newsweek senior editor-at-large Josh Hammer launched Jews Against Soros (JAS), a grassroots coalition of American Jews that not only opposes Soros' "leftist agenda" but is fighting back against the "left-wing smear" that criticizing the Jewish Hungarian billionaire is antisemitic, a claim that has often been leveled by Democrats and members of the media when conservatives call out his major influence in politics.
"There's really no easier way to try to shut down an entirely legitimate debate than to falsely accuse someone of something no less serious than the world's oldest form of bigotry, antisemitism." Hammer told Fox News Digital in an interview with both JAS co-founders. "Second of all, at a time of actual rising antisemitism all across the world, including in the United States, it does severe damage to the cause of those who have a vested interest in calling out and condemning real antisemitism to let these incredibly fabricated, politically tendentious charges of antisemitism metastasize throughout our culture as well."
ACTIVISTS LAUNCH JEWS AGAINST SOROS TO OPPOSE MEGADONOR'S 'RADICAL LEFT-WING INFLUENCE'
GEORGE SOROS' SON HAS VISITED THE WHITE HOUSE AT LEAST 17 TIMES SINCE BIDEN TOOK OFFICE, RECORDS SHOW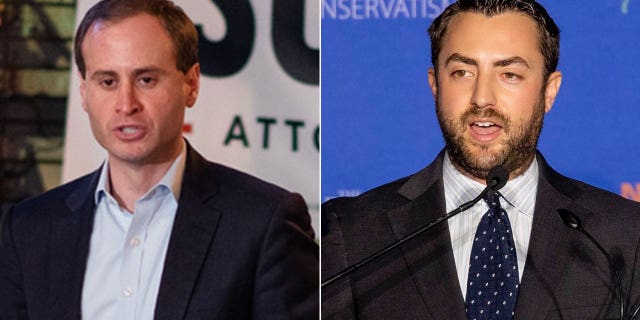 Jews Against Soros co-founders William Scharf and Josh Hammer spoke with Fox News Digital about their new venture combating the narrative that criticism towards liberal billionaire George Soros is antisemitic. (Photos courtesy of William Scharf and Josh Hammer)
Scharf, who is running to become Missouri Attorney General, took a swipe at liberal Jewish groups like the Anti-Defamation League for championing the antisemitism narrative about Soros. Hammer slammed the "ridiculous double standard" since he said such claims were never made about the left's criticism of the financial influence the late GOP megadonor Sheldon Adelson had in politics.
"If you're actually condemning their substantive political opinions and where their money is heading to, what they're funding, that's entirely fair game," Hammer said. "Now, obviously, you know, in here, there and everywhere can easily turn into antisemitism… but if you're simply condemning someone for what causes he or she funds, especially if, as in the case of Soros, he is one if not the largest funder of particular causes, you know, that strikes me as just entirely fair."
CLICK HERE TO GET THE FOX NEWS APP
Hammer also railed against the legacy media for going along with the narrative since Soros' causes are towards the interests of news organizations he says are "irredeemably biased" for Democrats.
"The New York Times editorial board, the talking heads on MSNBC, folks like that have a direct vested interest in offering apologia for George Soros, condemning any criticism of him. So I think that has definitely played a role here as well," Hammer said, to which Scharf followed, "The legacy media is lazy and doesn't like putting in hard work."