The Biden administration's proposed regulations targeting dishwashers is facing pushback from a coalition of 19 industry and consumer groups.
The coalition — led by the Competitive Enterprise Institute (CEI) — filed comments with the Department of Energy (DOE) late Tuesday, arguing that the rules are unnecessary, overly burdensome and would harm consumers, and urging the agency to withdraw the proposal. The DOE first unveiled the proposed regulations two months ago and the public comment period for the rulemaking concluded Tuesday.
"The proposed rule would tighten the energy and water efficiency standards for residential dishwashers, despite the fact that the standards currently in effect are causing serious problems for consumers," the letter stated. "Those problems include cycle times an hour or more longer than were the norm before the standards went into effect, as well as other adverse impacts."
"The proposed rule would exacerbate these problems and thus further violate the consumer protections built into the law," it continued. "For these reasons, we believe the proposed rule should be withdrawn and that the Department of Energy should shift its focus to addressing the drawbacks caused by its existing dishwasher regulations."
However, the DOE was criticized over the rule by industry groups and Republican lawmakers alike who noted the agency has already issued recent dishwasher efficiency regulations and that consumers are currently free to choose pricier efficient appliance models.
DEMOCRATS, ECO GROUPS TAKE AIM AT OTHER HOME APPLIANCES AMID GAS STOVE DEBATE
According to the CEI, the DOE has already regulated dishwasher efficiency standards on four separate occasions. The current proposal represents the fifth rulemaking taking aim at the popular home appliance.
The letter further argued that the efficiency standards would result in lower performance and cause lead to a higher number of repairs. For example, it notes dishwashers that comply with the proposed standards use less water and don't properly flush out food particles leading to mold and debris buildup.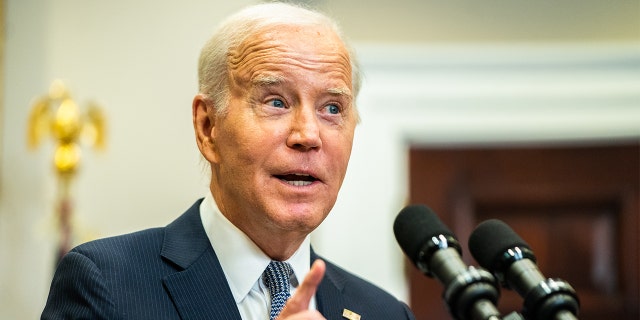 The Biden administration has unveiled a series of appliance regulations over the last several months. (Demetrius Freeman/The Washington Post via Getty Images)
It also stated the energy and water savings generated by the regulations are not significant. Citing the DOE's own data, the letter notes the regulations would save consumers $17 over the life of a standard dishwasher, which it estimates to be 15 to 16 years.
"This miniscule benefit is the very real risk of greatly diminished performance and convenience for consumers."
The Heritage Foundation, Institute for Energy Research, Heartland Institute, American Consumer Institute, Consumers' Research, Americans for Prosperity, and American First Policy Institute were among the groups joining CEI in signing the comment letter Tuesday.