The Biden administration is allowing Chinese electric vehicle battery company Gotion to move forward with construction of a facility in Michigan after a months-long national security review.
The Committee on Foreign Investment in the United States (CFIUS) — an interagency taskforce overseen by the Department of the Treasury and tasked with reviewing certain foreign investments that may pose a national security threat — determined Tuesday that Gotion's proposed facility was not a covered real estate transaction or purchase under the Defense Production Act.
"We voluntarily submitted all the needed documents to the U.S. Department of Treasury Committee on Foreign Investment in the U.S. to be transparent and accountable and received the response that it is not a covered transaction," Chuck Thelen, Gotion's vice president of North American operations, said in a statement.
Gotion, whose parent company Gotion High-Tech is based in Hefei City, China, said following the results of the CFIUS review that it would "continue to move forward with due diligence" on its billion-dollar project in Mecosta County, Michigan. Earlier this year, Gotion voluntarily paused its development plans and requested the federal review amid intense scrutiny about its ties to China.
CCP-BACKED TECH COMPANIES ARE POISED TO CASH IN ON BIDEN'S CLIMATE BILL, NATIONAL SECURITY EXPERTS WARN
In October, Democratic Michigan Gov. Gretchen Whitmer announced that Gotion would invest $2.4 billion to construct two 550,000 square-foot production plants along with other supporting facilities spanning 260 acres in northern Michigan. She applauded the proposal, saying it would shore up Michigan's status as the "global hub of mobility and electrification."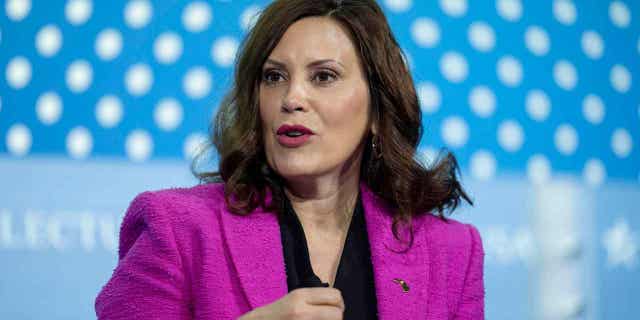 Michigan Gov. Gretchen Whitmer has argued Gotion's plant would help make the state the "global hub of mobility and electrification." (AP Photo/Alex Brandon, File)
And in a 10-9 vote in April, the Michigan state Senate Appropriations Committee gave the final stamp of approval for granting Gotion $175 million in direct taxpayer funding to help build the facility.
The Treasury Department didn't immediately respond to a request for comment.