The White House on Thursday announced a new effort to combat "book bans" as part of several actions designed to protect LGBTQI+ Americans unveiled during Pride month.
The Department of Education's Office for Civil Rights will appoint a new coordinator to "address the growing threat that book bans pose for the civil rights of students," the White House said Thursday.
The coordinator will train school districts on how attempts to remove certain books or materials from school libraries "may violate federal civil rights laws if they create a hostile work environment, hostile environment for students," said White House domestic policy adviser Neera Tanden.
This move by the Biden administration is a counter to parents and activists who have complained about sexually explicit and graphic LGBTQI+ content in school and public libraries and sought to remove those materials.
Seven of the top 13 most challenged books (four books tied for 10th place) tracked by the ALA in 2022 featured LGBTQI+ content claimed to be sexually explicit. The number-one book demanded to be removed from libraries was "Gender Queer," by Maia Kobabe.
"Gender Queer" has courted major controversy among America's parents for being in public school libraries throughout the U.S. and has been challenged for its depictions and descriptions of oral sex, as well as discussions of masturbation.
CONTROVERSIAL 'GENDER QUEER' TOPS LIBRARY GROUP'S LIST OF CHALLENGED BOOKS
The book bans during the 2022-23 school year came amid lawmakers across the United States implementing rigorous book-review policies and other education-reform legislation that addresses progressive curricula like critical race theory and gender theory being taught in classrooms.
STATES PASS UNIVERSAL SCHOOL CHOICE AMID PARENTAL RIGHTS MOVEMENT: 'TEACHERS UNIONS AWAKENED SLEEPING GIANT'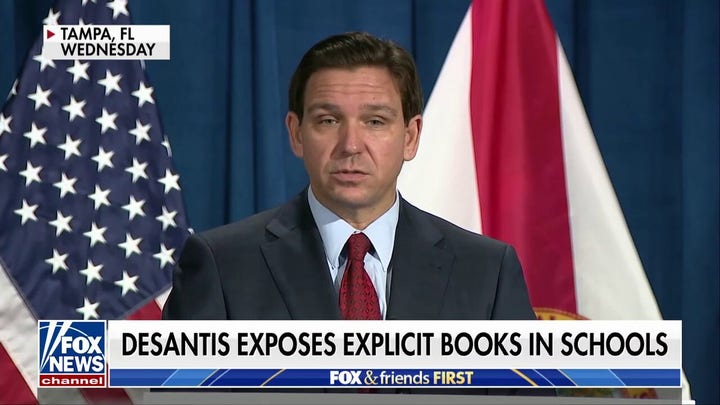 Video
Republican elected officials in several states have sought to ban discussion of gender ideology and critical race theory in classrooms, particularly for younger students.
"Exposing the 'book ban' hoax is important, because it reveals that some are attempting to use our schools for indoctrination," DeSantis said in March. "In Florida, pornographic and inappropriate materials that have been snuck into our classrooms and libraries to sexualize our students violate our state education standards. Florida is the education state, and that means providing students with a quality education free from sexualization and harmful materials that are not age-appropriate."
Fox News' Joshua Q. Nelson contributed to this report.