President Biden has used a Cold War era law to allow more than 500,000 immigrants to remain in the U.S., according to a report.
The Biden administration's immigration policy has led to the most significant legal immigration wave in modern history, according to internal government records obtained by CBS News. Federal officials are using a decades-old provision in federal law that gives officials the authority to grant parole to migrants, which lets them enter the country legally without a visa.
This has led to legal status for 541,000 immigrants from all around the world, based on court records and public documents.
The 1952 law has allowed federal officials to justify taking immigrants without visas if there is an "urgent humanitarian" cause or "significant public benefit." This legal status, although, is limited to two years, when the immigrants would then need to have their status renewed or obtain a visa.
The Uniting for Ukraine program was established early last year to allow the country's refugees to fly directly to the U.S., as opposed to the southern border, so long as they had a sponsor. A similar sponsor program was later launched for Venezuelans fleeing poverty and authoritative rule, which was expanded late last year to include those fleeing from Cuba, Haiti and Nicaragua.
MIGRANT CHILDREN ABANDONED BY ALLEGED SMUGGLER RESCUED BY TEXAS DPS AMID TRIPLE-DIGIT HEAT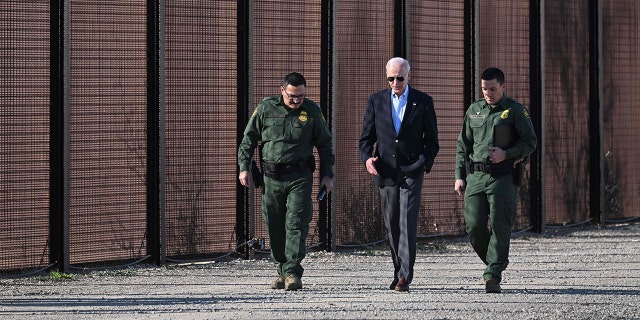 The border crisis reached a peak last year under President Biden, with more than 200,000 border encounters for 10 months straight. (Jim Watson/AFP via Getty Image)
At the border, a program was launched that allowed migrants to set up appointments at a legal port of entry using a mobile app called CBP One.
TEXAS DPS ARRESTS GULF CARTEL OPERATIVE FOR ALLEGED HUMAN SMUGGLING INTO US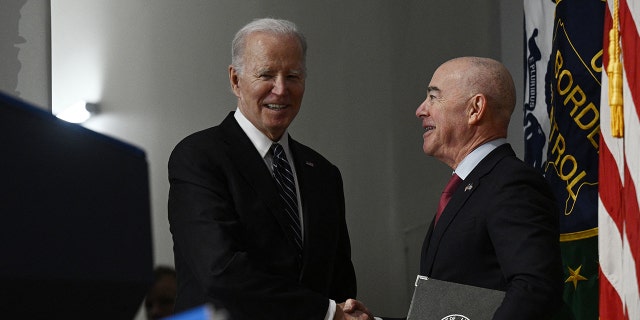 President Biden greets Homeland Security Secretary Alejandro Mayorkas as he arrives to speak at the DHS 20th anniversary ceremony at DHS headquarters in Washington, D.C.
"The Department of Homeland Security, under the false pretense of preventing aliens from unlawfully crossing the border between the ports of entry, has effectively created a new visa program without the formalities of legislation from Congress," the states wrote. "The Department's parole power is exceptionally limited, having been curtailed by Congress multiple times, and can be used 'only on a case-by-case basis for urgent humanitarian reasons or significant public benefit.'"