President Biden appears to have had a change of heart about one GOP lawmaker, just 10 days after he included the congressman's image in a tweet attacking "MAGA Republicans in Congress."
The remarks from Biden about Rep. Mike Lawler, R-N.Y., came during the president's Wednesday trip to upstate New York, where he spoke from SUNY Westchester Community College in Valhalla about the debt limit and shifted blame to Republicans.
"Republican Congressman Mike Lawler is here, as well," Biden said after he took the stage. "Mike's on the other team, but you know what? Mike is the kinda guy that when I was in the Congress — he's the kind of Republican I was used to dealing with."
"He's not one of these MAGA Republicans, which I'm going to talk a little bit about," Biden added of Lawler. "I don't want to get him in trouble by saying anything nice about him or negative about him, but thanks for coming, Mike."
COMER SAYS BIDEN 'INVOLVED' IN FAMILY BIZ DEALINGS; BROTHER, GRANDKIDS, AND HUNTER AND HIS WIVES ALL GOT PAID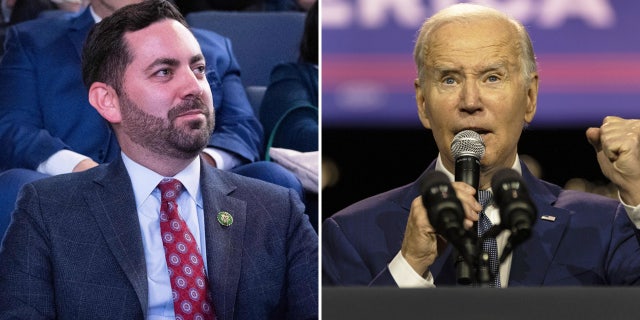 President Biden said Wednesday that Rep. Mike Lawler, R-N.Y., is not a "MAGA Republican," despite including the lawmaker's image in a tweet targeting the so-called group last month. (Brendan Smialowski/AFP, Victor Blue/Bloomberg via Getty Images)
Biden's remarks about Lawler come after he included an image of the lawmaker in a tweet on April 30 that targeted "MAGA Republicans in Congress" for their views on a measure related to veterans' healthcare.
"We have a sacred obligation to care for the men and women who fought to protect our freedom. This is how MAGA Republicans in Congress have chosen to repay them," Biden wrote in a tweet.
Included in the tweet were multiple headshot photos of some of the Republican lawmakers, including Lawler, who voted against the measure.
The quip from Biden came on the same day the Democratic Congressional Campaign Committee (DCCC) — led by House Democratic Leader Rep. Hakeem Jeffries of New York and committee chair Rep. Suzan DelBene, D-Wash. — referred to Lawler as a "rubber stamp" for the "GOP's far-right extremist agenda."
"Despite highly-vulnerable Republican Mike Lawler's attempts to deceive New Yorkers, his record since entering Congress proves that the increasingly endangered congressman is merely a rubber stamp for his MAGA colleagues to put New Yorkers' jobs, safety, health care, reproductive rights, and financial security all at risk," the DCCC wrote in a press release Wednesday.
"Voters in the Hudson Valley have seen repeatedly that Mike Lawler will put New Yorkers at risk just to please his extremist party bosses. No amount of fake moderation will hide Lawler's clear embrace of the GOP's dangerous extremism," said DCCC spokesperson Nebeyatt Betre.
PRESIDENT BIDEN SLAMS 'MAGA REPUBLICANS' AS THE 'REAL PROBLEM' AT DNC RECEPTION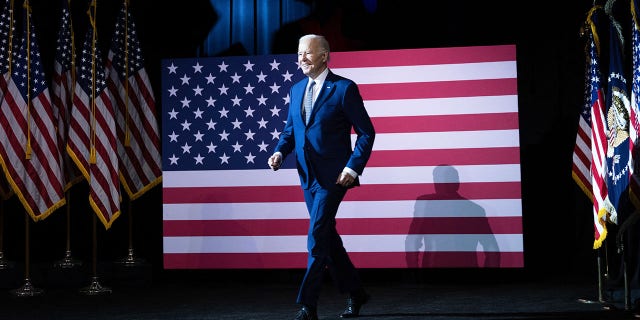 President Biden arrives to speak about why Congress must avoid default by lifting the debt ceiling at SUNY Westchester Community College in Valhalla, New York, on May 10, 2023. (BRENDAN SMIALOWSKI/AFP via Getty Images)
The National Republican Congressional Committee (NRCC) also weighed in on the apparent gaffe from Biden, concluding in a press release titled "Be Like Mike" that the president "had some nice things to say about Congressman Mike Lawler" during his trip to the Empire State on Wednesday.
"Despite the DCCC's repeated lies regarding Congressman Lawler's positions, Lawler is a pragmatic member of Congress who is working to negotiate and avoid a government default, something extreme Democrats in the House could learn a thing or two about," the NRCC wrote.
"What he said," NRCC spokeswoman Savannah Viar wrote in a statement, making reference to Biden's remarks about Lawler.
The rhetoric from Biden about "MAGA Republicans" — a reference to former President Donald Trump's "Make America Great Again" slogan — stems from the administration's larger approach to portray Republicans as unwilling to work with Democrats in both the House and the Senate on a number of issues that would include rampant spending.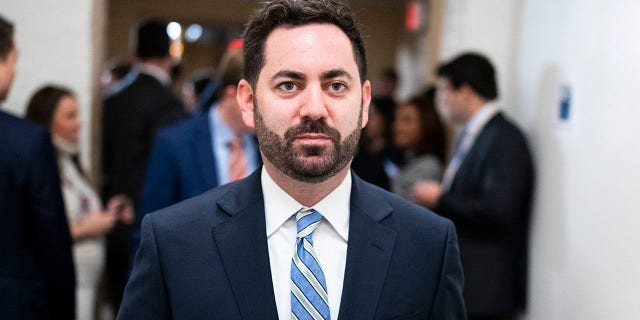 Rep. Mike Lawler, R-N.Y., is seen outside a meeting of the House Republican Conference in the U.S. Capitol on Tuesday, January 3, 2023. (Tom Williams/CQ-Roll Call, Inc via Getty Images)
CLICK HERE TO GET THE FOX NEWS APP
Last month, during a reception for the Democratic National Committee, Biden claimed "MAGA Republicans" are attempting to undo the progress made in the U.S.
"MAGA Republicans are trying to take us backwards," Biden said. "But together, we're not going to let them do it. Not an inch back. Instead, our agenda is going to continue to bring us forward and build on the progress we made. And we must finish this job."
The comments from Biden, 80, about Lawler came a little more than two weeks after he announced on April 25 that he and Vice President Kamala Harris will seek re-election in 2024.
Fox News' Landon Mion contributed to this article.