President Joe Biden's $400 billion student loan forgiveness program survived a procedural challenge on Wednesday as the House couldn't find the votes to override his veto of a bill aimed at killing the program.
The House passed a resolution in May to end what Republicans say is an illegal attempt by Biden to forgive billions in student loans, effectively throwing that debt on the backs of taxpayers. After the Senate approved the same resolution, Biden vetoed it in June.
On Wednesday, the House tried to override that veto but failed to reach the two-thirds majority needed. The House voted 221-206 to override Biden, dozens of votes short of the target thanks to Democrats who all voted to protect Biden's veto – except for two who voted with the GOP.
GOP ROLLS OUT STUDENT LOAN PLAN AS BIDEN'S $400 BILLION HANDOUT FACES SUPREME COURT TEST
Rep. Bobby Scott, D-Va., argued on behalf of Democrats that 43 million Americans are eligible for "loan relief" under Biden's plan, many of whom are low-income people who need such relief. But Rep. Virginia Foxx, R-N.C., argued that Americans know that the program unfairly shifts this debt to taxpayers.
"President Biden's radical plan to cancel up to $20,000 in student debt via executive fiat is utter hogwash. The American people are not fooled by the deceptive, doctored-up talking points on student loans that the left has attempted to force-feed them over the past two years."
The House vote effectively kills the attempt by Republicans in Congress to terminate Biden's controversial loan program. But the Supreme Court may yet rule against it in an upcoming case and could issue that ruling in a matter of days.
"The pandemic was devastating for families across the nation," Biden said. "To give borrowers the essential relief they need as they recover from the economic strains associated with the COVID-19 pandemic, the Department of Education created a program to provide up to $10,000 in debt relief – and up to $20,000 for Pell Grant recipients – reaching more than 40 million hard-working Americans."
BIDEN STUDENT LOAN 'REDISTRIBUTION' COULD BENEFIT FELONS, GOP OFFICIALS CLAIM IN LETTER DEMANDING DETAILS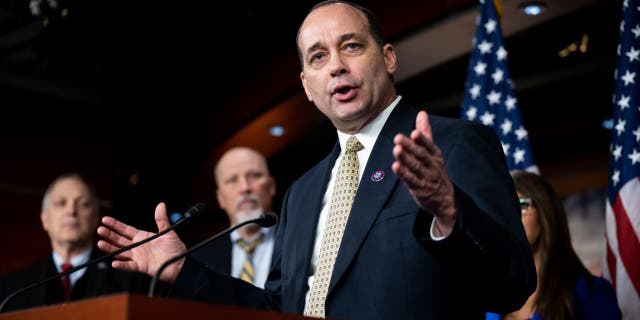 The resolution from Rep. Bob Good, R-Va., to block Biden's student loan forgiveness plan had enough votes to pass the House but not enough to override Biden's veto. (Bill Clark/CQ-Roll Call Inc. via Getty Images)
CLICK HERE TO GET THE FOX NEWS APP
"It is a shame for working families across the country that lawmakers continue to pursue this unprecedented attempt to deny critical relief to millions of their own constituents, even as several of these same lawmakers have had tens of thousands of dollars of their own business loans forgiven by the Federal Government," Biden said in his veto message.