Will the Los Angeles Dodgers ever be the same?
I doubt it. One of the most-storied sports brands in history is reeling. It's the result of management's foolish decision to invite an anti-Catholic hate group to an LGBT Pride night, then rescind the invitation after criticism from the right, only to re-invite the group after blowback from the left.
The flip-flopping wasn't the Dodger's biggest mistake. The real issue is that the baseball team waded into politics in the first place.
DODGERS' CLAYTON KERSHAW SAYS TEAM WILL HOLD CHRISTIAN FAITH AND FAMILY DAY AMID PRIDE NIGHT CONTROVERSY
That's the point of a sports team. Score points, please the fans, win trophies. Scoring political points is the last thing a team should ever do.
Yet that's exactly what a small but vocal group of activists now wants. They demand that sports teams – and every business, for that matter – pick sides in our country's culture wars. They want companies to take stands on everything from abortion to marriage to sexuality to changing children's genders with invasive surgeries. I don't doubt the sincerity of their beliefs. But I'm deeply confused why so many companies kowtow to these demands.
Video
Imagine if the Dodgers had never held a Pride night, ever. Would some people have criticized the team? Absolutely. Would some media outlets have taken potshots at the team? Sure. And would some people have even boycotted the Dodgers? Probably.
There's no point enraging your fan base, especially when people can advocate for their favored political positions in the political process. That's where politics belongs – in the voting booth, in candidate's campaigns and in the persuasion that happens around kitchen tables and on social media.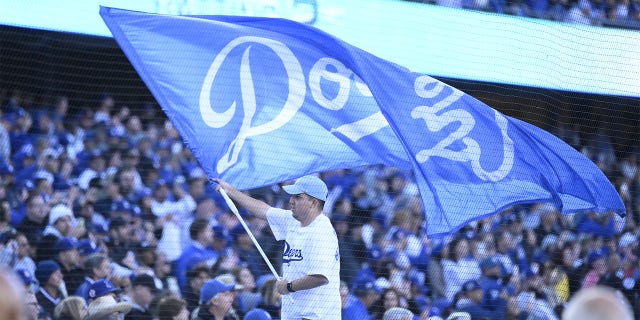 Los Angeles Dodgers sullied their organization's reputation by embracing anti-Catholic bigots instead of providing a family friendly environment. (Keith Birmingham/MediaNews Group/Pasadena Star-News via Getty Images)
We don't need it in the dugout, the field, or the boardroom. Fans, sports teams and business leaders have other things to worry about. You know, like supporting the players, strengthening the team, and running a business.
CLICK HERE TO GET THE FOX NEWS APP