Fox Nation, Fox News Media's subscription-based streaming service, announced the upcoming release of a new docuseries this fall focusing on convicted murderer, Alex Murdaugh's friends, family and defense team. The new series will feature the first sit-down interview with Alex's only living son, Buster, conducted by Fox News' Martha MacCallum.
"The Fall of the House of Murdaugh" will be a three-part series focusing on the life and crimes of Alex Murdaugh, who was convicted of killing his wife and son earlier this year.
The elder Murdaugh made headlines in March when he was convicted of gunning down his wife, Maggie, and son, Paul, after a panel of 12 jurors returned a guilty verdict after less than three hours of deliberations.
ALEX MURDAUGH: TIMELINE OF ONCE-POWERFUL SOUTH CAROLINA LAWYER'S SPECTACULAR DOWNFALL
The jury found Murdaugh, 54, guilty of two counts each of murder and possession of a weapon during the commission of a violent crime without posing a single question to the judge while weighing the case.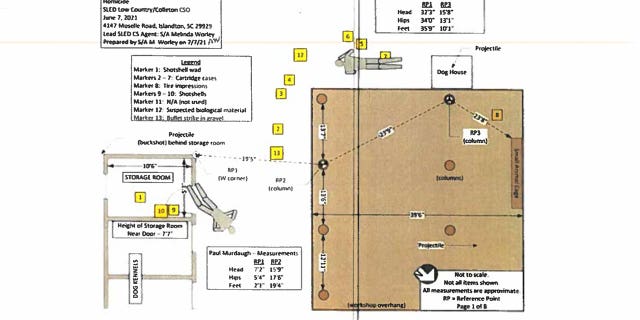 Diagram of the section of Alex Murdaugh's property where his wife, Maggie, and his son, Paul, were murdered. (Fox News )
In addition to the interviews with Murdaugh's defense team, viewers can expect to hear from lead prosecutor Creighton Waters, Attorney General Alan Wilson, Moselle dog kennel manager Roger Dale Davis Jr., forensic expert Dr. Kenneth Kinsey, and more.
The three-part series centering around the prominent South Carolina lawyer-turned-convicted murderer is slated to premiere on September 12, 2023, exclusively on Fox Nation.
Fox News' Rebecca Rosenberg contributed to this report.