Barney Chapman had been homeless off and on for about 17 years until two months ago when Kate Monroe found him living under a tarp in Oceanside. But where California and its billions of dollars earmarked for homeless services failed, the local activist took action, providing Chapman with shelter and reuniting him with a sister he hadn't seen in decades.
"If two regular people can do this, why can't all of our billions of dollars do more?" Kate Monroe asked Fox News.
'YOU'D BETTER NOT DISAPPEAR NO MORE': WATCH EMOTIONAL REUNION BETWEEN HOMELESS MAN AND HIS SISTER: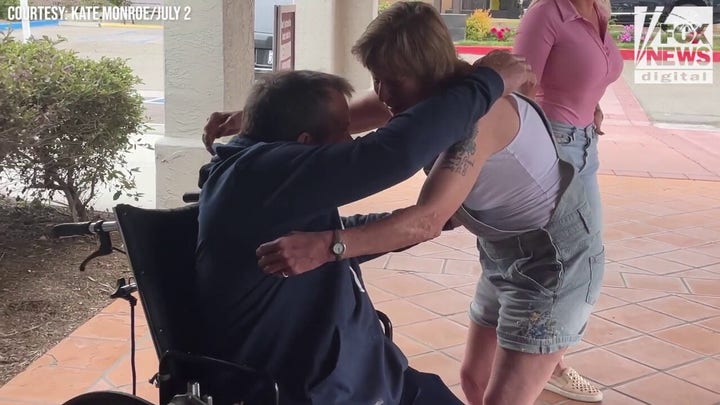 Video
WATCH MORE FOX NEWS DIGITAL ORIGINALS HERE
Monroe is the CEO of VetComm, which has a nonprofit arm helping homeless veterans obtain disability compensation and transition into housing. In early May, she interviewed dozens of people living on the streets of San Diego and Oceanside, hoping to gain a better understanding of the region's homeless crisis.
"You'd better not disappear no more, that's all I've got to say because I need you in our life," she said, tearfully embracing Barney. "I don't ever want to see a picture of you lying on the side of a hill in the grass again."
Monroe says the reunion was "like a fairy tale ending," but she's upset with the city for "100%" failing Barney.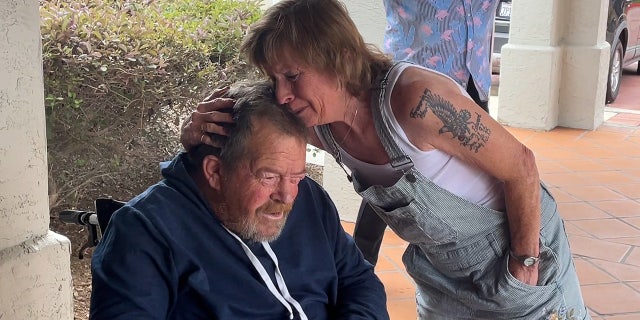 Marjorie Chapman embraces her brother Barney on July 2, 2023. The siblings hadn't seen each other in about 25 years. Barney spent much of that time homeless in Oceanside, California. (Courtesy Kate Monroe)
'WHERE DO I SIGN UP?' SAN DIEGO HOMELESS WOMAN SAYS THEY'RE 'SPOILED' WITH FREE STUFF, PHONES
Monroe said Barney was one of the easiest people to help off the streets.
"He does not have a drug and alcohol problem, doesn't have a mental health problem, he desperately wanted to be inside the whole time," Monroe said. "If this is happening to Barney … you got to think what's going on with all the people who aren't good self representatives."
Oceanside Housing Management Analyst Salvador Roman couldn't confirm whether people had reached out on Barney's behalf, but did say demand for help often exceeds available resources.
Oceanside had the second-highest number of unsheltered residents in San Diego County last year, according to a regional report, beat only by its much larger neighbor to the south.
METH PIPE VALENTINES? HARM REDUCTION ADVOCATES, CRITICS AT ODDS OVER BEST WAY TO HELP DRUG USERS
More than 2,100 people were living on the streets of downtown San Diego in May, the highest level in the 11 years the Downtown San Diego Partnership has been tracking the numbers. During the same period, spending on homeless services has soared.
Kate Monroe, Barney Chapman and Marjorie Chapman pose for a photo July 2, 2023. (Courtesy Kate Monroe)
CLICK HERE TO GET THE FOX NEWS APP
"It's amazing what a month inside will do," Monroe said. "He's all smiles. We got him cleaned up, new clothes, got his hair cut. He's looking and feeling like his full self again."
To see Barney's reunion with his sister, click here.