The presidents of Honduras and the People's Republic of China met in Beijing on Monday to discuss the beginning of a free trade agreement between the two nations.
Honduran President Xiomara Castro's six-day state visit with Chinese President Xi Jinping comes as concern grows in the United States over a suspected Chinese spy base being built in nearby Cuba.
"You have resolutely fulfilled your election promise of establishing diplomatic relations with China, made a historic decision, and demonstrated your firm political will," Xi said to Castro in Beijing.
BIDEN ADMIN CONFIDENT IT CAN PROTECT AMERICA'S SECRETS AFTER REPORTS OF CHINA SPY BASE IN CUBA
REPORTED CHINA-CUBA SPY STATION DEAL SHOWS BEIJING PREPARING FOR CONFLICT WITH US, HOUSE REP SAYS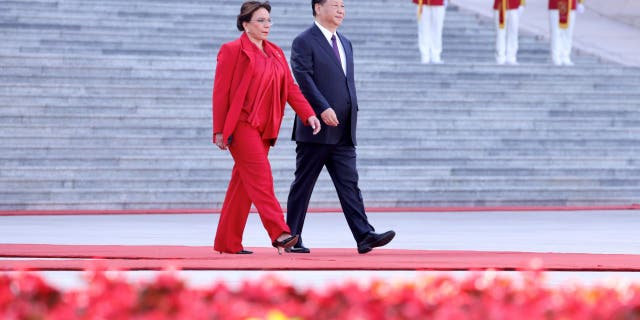 Chinese President Xi Jinping holds a welcoming ceremony for President Xiomara Castro outside the Great Hall of the People in Beijing, June 12, 2023. (Liu Bin/Xinhua via Getty Images)
Honduras cut ties with Taiwan in the months leading up to their new diplomatic relationship with China.
"One China principle is the primary premise and political foundation for the establishment of loyal diplomatic relations and the development of bilateral relations," Xi said.
TAIWAN PRESIDENT DECRIES CHINA'S 'DOLLAR DIPLOMACY' AS HONDURAS OPENS TIES WITH BEIJING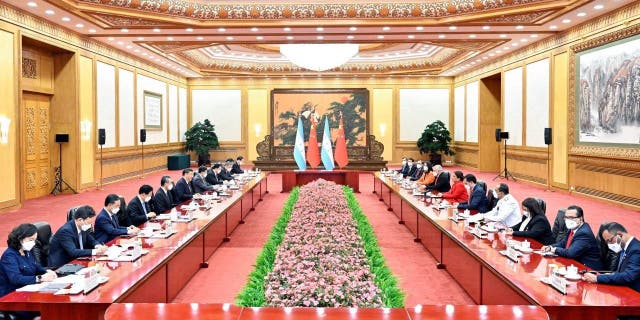 The state visit by Honduras' president come amid reports of a secret agreement for China to establish an eavesdropping facility in Cuba. (Yin Bogu/Xinhua via Getty Images)
"This is an ongoing issue, and not a new development, and the arrangement as characterized in the reporting does not comport with our understanding," an administration official told Fox News on Saturday.
The Wall Street Journal first reported Thursday that China and Cuba have reached a secret agreement for China to establish an electronic eavesdropping facility on the island, allowing Chinese intelligence services to "scoop up electronic communications throughout the southeastern U.S., where many military bases are located, and monitor U.S. ship traffic."