EXCLUSIVE – After a clip of her Dylan Mulvaney jokes triggering audience members went viral last week, comedian Chrissie Mayr is defending her right to say offensive jokes at her stand-up shows, claiming that "comedy clubs are one of the last few places of freedom" left in society.
During an interview with Fox News Digital this week, Mayr defended offensive comedy, ripped the transgender community for acting like the "protected class du jour," and declared that "true equality is being able to joke about everybody."
In the interview, Mayr talked about the jokes that infuriated several audience members at her stand-up performance earlier this month. During her set, Mayr joked Mulvaney should have a pair of "t–s" after identifying as a woman for some time now.
AP SHOCKS BY REPORTING TRANS KIDS ARE 'PROTECTED FROM PARENTS' WITH GENDER-AFFIRMING CARE LAW
"Why has it been a year of girlhood and still no t–s? That's day one," Mayr joked at her show in Dallas, Texas. "Why no t–s for Dylan? I don't understand."
A man in the crowd could be heard off-screen yelling, "Because he's a man!" Mayr agreed, repeating "Because he's a man." The claim was met with scorn from multiple females in the audience, one of whom yelled back, "No! She's a woman."
Mayr responded, "No, it's all good. We can all have different beliefs, it's OK. Some of us can believe in reality and some of us can't," as the majority of the audience laughed.
Mayr continued that the hecklers are just products of a mainstream narrative that is rarely, if ever challenged.
"Their friends aren't challenging them, their family [isn't] challenging them, their work, their school – everything's in line with the mainstream," Mayr said. "I just don't think they're very self-aware, and they're so used to their feelings being validated everywhere they go, and their reality being, I guess, reflected back to them."
KANSAS GOV. KELLY VETOES TRANS BATHROOM, YOUTH SEX CHANGE BANS
"You should be laughing at things at a comedy club that might get you in trouble at work. You should be making side comments to your buddies at a comedy club that could get you in trouble at work. It's one of the last few places of freedom where you can be yourself and let loose."
Mayr also had criticism for the transgender community and those who feel any jokes about them is out of bounds.
"Trans are like the protected class du jour," she said. "People feel very entitled – you can just say you're non-binary and whoop, you have as much entitlement as a full-blown trans person."
To illustrate the point, Mayr claimed that night she "joked about Puerto Ricans in that set. I had a joke about migrants in that set." Providing an example of one of her set's dirty political jokes, she said, "I literally had a joke where I was like, 'Oh I'm from Texas, my favorite sex position is the El Paso. Have you guys ever done the El Paso? Oh, it's where you turn your back and 50,000 people run over you."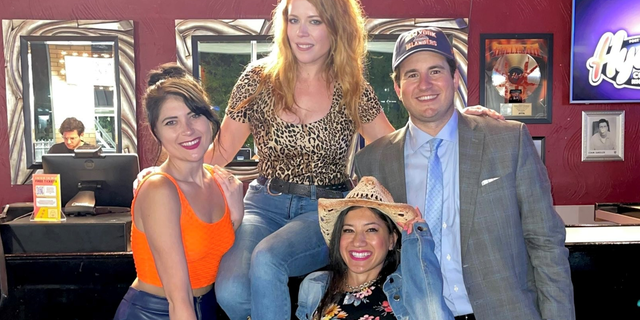 Comedians Keanu C. Thompson, Chrissie Mayr, Alex Stein, and Lila Hart. (courtesy of Chrissie Mayr)