Crown Prince Al Hussein bin Abdullah II, heir to the throne in one of the oldest monarchies in the Middle East, is officially married to Rajwa Alseif.
On Thursday, the couple tied the knot in an Islamic marriage ceremony at Zahran Palace in Amman, Jordan. It followed a reception at Al Husseiniya Palace with over 1,700 guests. The glitzy event was the biggest royal wedding in years.
Britain's Prince William and wife Kate Middleton were among the numerous royals from various palaces across the globe who attended the wedding.
Jordan's Crown Prince Hussein and his wife Saudi Rajwa Alseif wave as they leave the Zahran Palace in Amman June 1, 2023, following their royal wedding ceremony. (Khalil Mazraawi/AFP via Getty Images)
Others in attendance included Crown Prince Frederik and Crown Princess Mary of Denmark, Crown Princess Victoria and Prince Daniel of Sweden, Princess Hisako and Princess Tsuguko of Japan, Crown Prince Haakon of Norway, King Philippe and Princess Elisabeth of Belgium and King Willem-Alexander, Queen Máxima and Princess Catharina-Amalia of the Netherlands.
PRINCESS IMAN OF JORDAN MARRIES NEW YORK FINANCIER JAMEEL THERMIOTIS IN ROYAL WEDDING: 'LIFETIME OF BLESSINGS'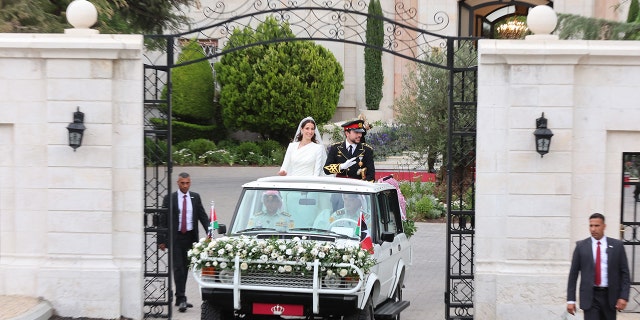 The ceremony was held in the mid-century Zahran Palace, the site of other key royal weddings, including that of King Abdullah II to Queen Rania. (Khalil Mazraawi/AFP via Getty Images)
"This wedding is a huge deal," Shannon Felton Spence, royal expert and former head of communications and politics at the British Consulate in Boston, told Fox News Digital.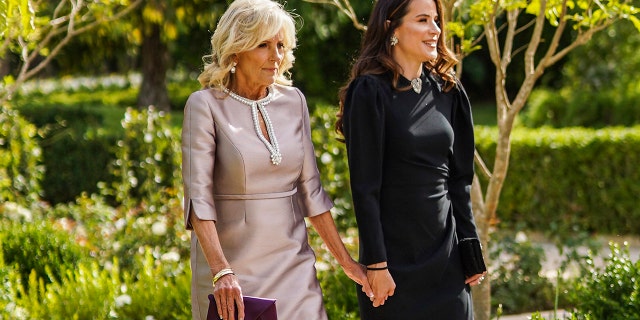 U.S. first lady Jill Biden (left) also made an appearance at the royal wedding. (Royal Hashemite Court)
"They are a super tight-knit family unit," she said of Jordan's royal household. "Lots of diplomatic influence, and they have two royal weddings this year, this one being the bigger deal because it is their son, the crown prince. William and Kate's attendance shows how important it is diplomatically. It's their counterpart in Jordan. That's how big of a deal that royal wedding is."
The bride and groom are destined to become a power couple as they forge a new bond between Jordan and Saudi Arabia.
CLICK HERE TO SIGN UP FOR THE ENTERTAINMENT NEWSLETTER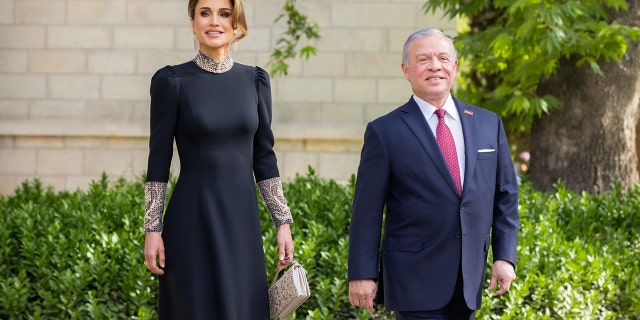 Crown Prince Hussein's proud parents are beaming during the big day. (Royal Hashemite Court)
The celebration is a joyous time for Jordan's ruling family, which has gone through a rough patch in recent years due to economic troubles and some public infighting. It deepens the ties between two countries in a turbulent region. Additionally, the ceremony gave the world a first glimpse of the man tapped to one day rule the desert kingdom.
"Jordan is an important ally," Jonathan Sacerdoti, a royal expert and British broadcaster, told Fox News Digital. "It is a relatively stable presence in a tense neighborhood, bordering war-torn Syria and Iraq, as well as Israel and the disputed territories claimed by the Palestinians. The future king and his bride have strong Western sensibilities.
The motorcade traveled through Amman to the Al Husseiniya Palace, a 30-minute drive away, for the reception. (Royal Hashemite Court)
"The wedding has great significance because the bride is the scion of a powerful Saudi dynasty, strengthening ties between the two countries," he added. "Jordan is quite a poor country which relies on international aid, so the royal wedding is likely to help it strengthen its ties with oil-rich Saudi Arabia. … Rajwa is the daughter of one of the richest people in Saudi Arabia."
PRINCE JOACHIM OF DENMARK ANNOUNCES MOVE TO AMERICA AFTER HIS CHILDREN LOSE THEIR ROYAL TITLES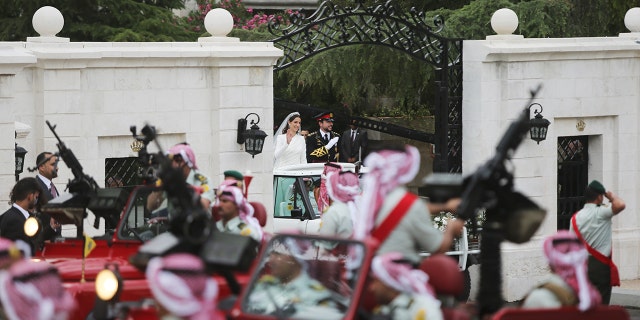 Crown Prince Hussein and Princess Rajwa rode in a 1984 Range Rover that was customized for the visit of the late Queen Elizabeth II to the country in the same year. (Jordan Pix/Getty Images)
Rajwa studied architecture at Syracuse University in New York, where she graduated with a bachelor's degree in 2017. The year before, she led a spring break architecture symposium in Dubai, in the United Arab Emirates, that was funded by her father's company. She earned a degree in visual communications from the Fashion Institute of Design and Merchandising in Los Angeles.
The bride arrived at Zahran Palace in a 1968 Rolls-Royce Phantom V custom-made for the crown prince's late great-grandmother. The crown prince was in full ceremonial military uniform with a gold-hilted saber. The look was inspired by the same suit his father wore when he married the queen in 1993.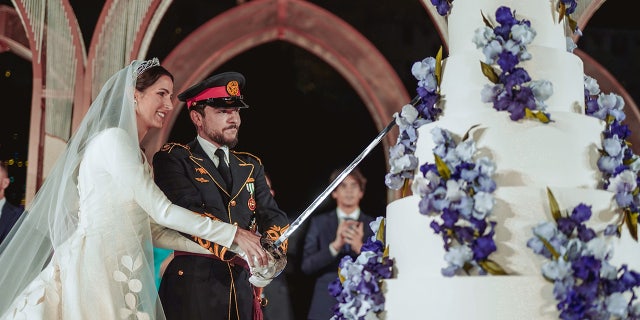 The Crown Prince of Jordan and his bride cutting the cake at their wedding on Thursday. (Royal Hashemite Court)
Vogue Arabia reported that the curve-hugging, long-sleeved bridal gown was designed by Lebanese designer Elie Saab. The bride completed the look with a diamond tiara, a sweeping veil with embroidery and pointed flats.
The couple's red motorcade was a nod to the traditional procession of horse riders clad in red coats during the reign of the country's founder, King Abdullah I. It consisted of eight bright red Land Rover vehicles. Thousands of well wishers attended free concerts and events in honor of the festivities.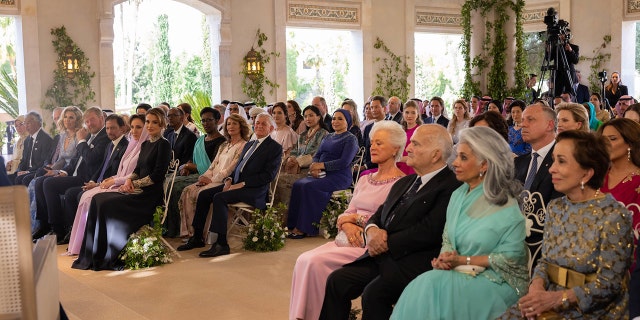 More than 1,700 guests attended the wedding reception. (Royal Hashemite Court)
The Four Seasons Hotel in Amman was filled with Saudi wedding guests and tourists. The men wore white dishdasha robes while the women appeared in brightly colored abayas. Congratulatory banners of Hussein and his beaming bride adorned buses and hung over hillside streets. Shops had competing displays of royal regalia.
Palace officials turned to social media to showcase the nuptials, even creating the wedding hashtag #CelebratingAlHussein. Thursday was declared a public holiday, giving crowds the chance to gather and celebrate.
Jonathan Schanzer, Senior VP for research and a Middle East scholar at FDD (Foundation for Defense of Democracies), was in Jordan when the engagement was initially announced, and noted that the union is the real deal.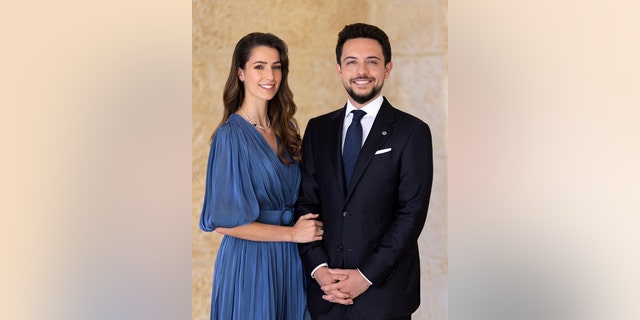 "It's a fairy tale, according to the royal court," Jonathan Schanzer told Fox News Digital. (Royal Hashemite Court)
"I was sitting with a representative of the royal court, and I said, 'Is this a political arrangement designed to sort of soothe tensions and reset ties?'" he recalled. "And the response I got was, 'No, no, this is true love.' So, it's a fairy tale, according to the royal court."
The Associated Press contributed to this report.