A West Virginia State Police officer was killed while responding to a complaint of a shooting on Friday.
Sgt. Cory Maynard as well as two other officers initially responded to a complaint of a shooting at a home on Friday in Mingo County, West Virginia when Timothy Kennedy, 29, allegedly began firing his weapon. Maynard was shot and taken to a local hospital, where he later died.
Kennedy is being charged with first-degree murder.
He fled the scene after the alleged incident, triggering what turned into an hours-long manhunt which ended up postponing a graduation ceremony on Friday night, with residents in the area being told to stay inside.
Maynard was previously awarded in 2015 by the state police after administering first aid to a man who was involved in a pursuit and crashed into his vehicle, then stabbing himself in the neck.
Benjamin Adam Baldwin, 39, was also injured during the shooting. He was taken to a local hospital and was in serious but stable condition.
OFF-DUTY CHICAGO POLICE OFFICER SHOT AFTER MOVING GARBAGE CANS BLOCKING ALLEYWAY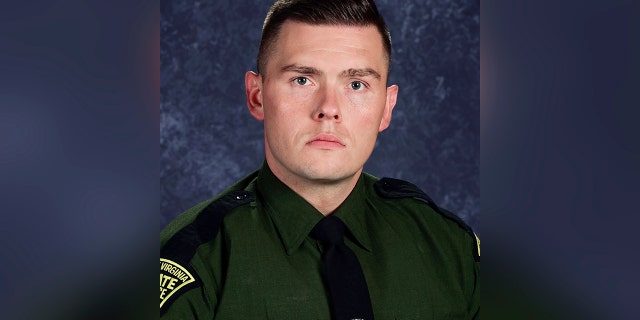 This undated photo provided by West Virginia State Police shows State Police Sgt. Cory Maynard. Maynard was fatally shot Friday, June 2, 2023, in the Mingo County community of Beech Creek. A suspect was arraigned Saturday, June 3.  (Courtesy of West Virginia State Police via AP)
"The brave men and women of law enforcement, and all first responders who put their lives on the line every day to keep us safe, are an inspiration to us all," Justice said. "I again ask all West Virginians to join Cathy and I in embracing Trooper Maynard's family, loved ones, and all of our courageous West Virginians in uniform during this incredibly difficult time."
The Associated Press contributed to this report.