Danny Masterson drugged women's drinks so he could rape them, then relied on his prominence in the Church of Scientology to avoid consequences for years, a prosecutor told jurors Tuesday in closing arguments at the actor's trial.
"The defendant drugs his victims to gain control. He does this to take away his victims' ability to consent," Deputy District Attorney Ariel Anson told the jury of seven men and five women. "You don't want to have sex? You don't have a choice. The defendant makes that choice for these victims. And he does it over and over and over again."
The 47-year-old former star of "That '70s Show" is on rape trial for a second time after the first ended in a mistrial in December, with a jury hopelessly deadlocked on all counts. The new jury is expected to get the case Wednesday morning when prosecutors complete their final rebuttal.
CLOSING ARGUMENTS FOR 'THAT '70S SHOW' STAR DANNY MASTERSON'S RAPE RETRIAL SET TO BEGIN
Anson took aim at the Church of Scientology, of which Masterson is a member and all three women are former members, throughout her argument, emphasizing that church authorities kept the women from accepting what had happened to them and from reporting it to police for years.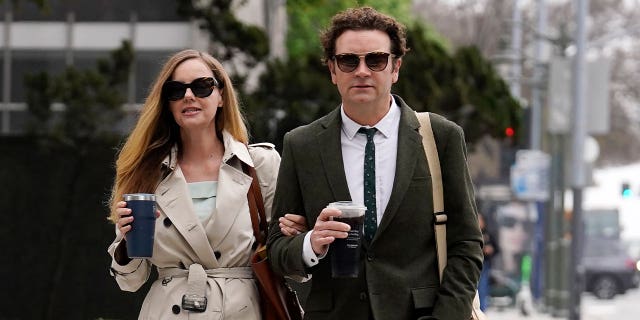 Danny Masterson and his wife Bijou Phillips arrive for closing arguments in his second rape trial on May 16, 2023, in Los Angeles, California.  (AP Photo/Chris Pizzello)
"The church taught his victims, 'Rape isn't rape, you caused this, and above all, you are never allowed to go to law enforcement,'" she said. "In Scientology, the defendant is a celebrity and he is untouchable."
The church has denied having any policy discouraging members from going to law enforcement.
'THAT '70S SHOW' ACTOR DANNY MASTERSON DRUGGED 3 WOMEN BEFORE RAPING THEM, LA PROSECUTOR SAYS
Cohen said Claire Headley, a former Scientology official who testified as a prosecution expert in an element not allowed at the first trial, had credibility problems based on an unsuccessful lawsuit against the church and a relationship with Remini.
"She came with a bias and a motive," Cohen said.
There is no forensic proof of any drugging. The investigation that led to Masterson's arrest did not begin for about 15 years after the women say they were raped. Anson told jurors the women's accounts and the testimony of a police toxicology expert who described symptoms should be enough.
CLICK HERE TO GET THE FOX NEWS APP
"What is not here is evidence of drugs," Cohen said in response. "Miss Anson presented a case as if she was arguing a drugging case. Maybe it's because there is no evidence of force or violence."
"It is a tweak here, a massaging a word there, a saying something over here," the defense attorney said. "That's what contamination really is."
Cohen also said civil lawsuits brought by the women are evidence they have a financial incentive.
"If you're looking for motives why they might not be truthful, there are motives all over the place," he said.