An Egyptian court sentenced a rights activist on Tuesday to three years in prison over an opinion article he wrote in 2019 in a case that renewed global attention to Egypt's intolerance of government critics.
The case of Patrick George Zaki has also echoed in Italy, where he was a postgraduate student and where many were reminded of the tragic fate of Italian student Giulio Regeni who was abducted and killed in Cairo in 2016.
Amnesty International swiftly condemned Egyptian authorities and said that the image of Zaki being dragged out of a courtroom and taken to prison on Tuesday was "terrifying."
The court in the Nile Delta city of Mansoura convicted Zaki of "disseminating false news" related to an article of his about alleged discrimination against the Coptic Christian minority in Egypt, according to the Egyptian Initiative for Personal Rights. Zaki worked with the group as a gender rights researcher.
Because Zaki was tried before an emergency court, he has no right to appeal under Egyptian laws, his rights group said, another point of contention in Egypt's human rights record.
However, the court's ruling still requires a ratification by President Abdel-Fattah el-Sissi, who has the power to annul it or pardon the researcher.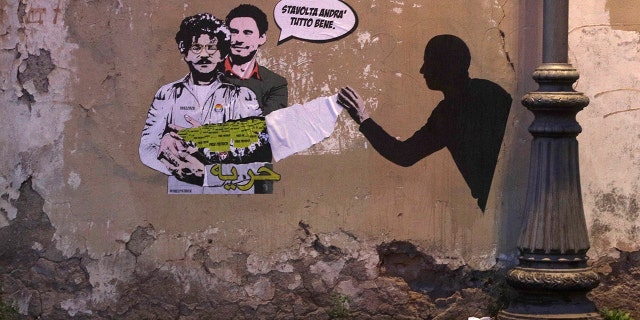 A mural depicts detained Egyptian human rights advocate, Patrick George Zaki, being hugged from behind by Italian researcher Giulio Regeni, who was murdered in Cairo in 2016, on a wall in Rome, Italy, on Feb. 19, 2020.  (AP Photo/Gregorio Borgia, File)
Egypt's jailing and silencing of critics have brought international condemnation and are key points of friction between the North African country and the West.
In a statement after the verdict, Italian Premier Giorgia Meloni said that "our commitment for a positive solution to the case of Patrick Zaki has never ceased, it continues, we still have faith."
Riccardo Noury, a spokesman in Italy for Amnesty International, described the verdict as "scandalous" in a post on Twitter. "After 22 months in a very tough prison and a trial begun more than a year ago, the image of Patrick dragged away from the Mansura courthouse courtroom is terrifying," Noury said.
CLICK HERE TO GET THE FOX NEWS APP