In honor of National Endangered Species Day, take a look at quick tidbits about creatures in the U.S. that are at risk of extinction.
From the eye-catching monarch butterfly to the aquatic Black Warrior waterdog, here's a list of some endangered species that are found in America – plus fascinating and numerical facts attached to them.
HAWAII'S THREATENED SPECIES: WHAT TO KNOW ABOUT PROTECTED WILDLIFE ON THE ISLANDS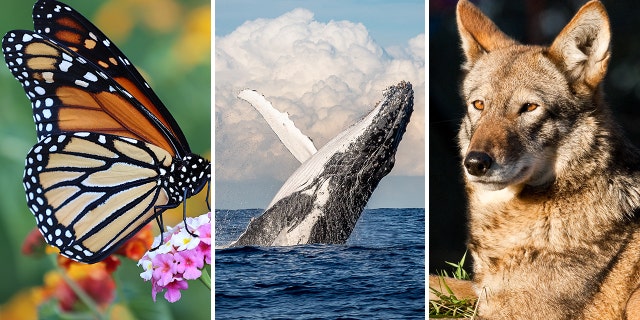 Read about the beautiful animals that live in our country that face extinction, and what wildlife conservationists are doing to protect these species. (iStock)
1. In what years was the humpback whale listed as endangered?
All species of the humpback whale are listed under the Endangered Species Conservation Act. The species was first listed in the Endangered Species Conservation Act in 1970 and was listed under the Endangered Species Act in 1973, according to the National Oceanic and Atmospheric Administration.
ODD BUGS: FASCINATING FACTS ABOUT PRAYING MANTISES, WALKING STICKS AND OTHER UNIQUE-LOOKING INSECTS
The Black Warrior waterdog was first assessed by the International Union for Conservation of Nature (IUCN) Red List in 2004, and was officially named endangered in 2018, stated the forestry of Alabama.
"The Black Warrior waterdog is also listed as critically endangered by the Alabama Natural Heritage Program and the Alabama Department of Conservation and Natural Resources, which found that of 113 surveyed sites in 59 streams, the Black Warrior waterdog was found at only 14," reported the Encyclopedia of Alabama.
Stream dwellers, rejoice! NFWF, @forestservice, @USDA_NRCS, @usfws and @SouthernCompany announced $646,000 in grants to restore aquatic habitat for vulnerable native freshwater species, like this black warrior waterdog. https://t.co/tS9DcDlPRt pic.twitter.com/Tudc0f237c

— National Fish and Wildlife Foundation (@NFWFnews) November 30, 2021
3. What is the typical lifespan of monarch butterfly?
The typical lifespan of a monarch butterfly is between two and six weeks, according to the United States Department of Agriculture. Now, the most recent generation of monarchs can live for upwards of eight or nine months, according to the government site.
MONARCH BUTTERFLIES ARE OFFICIALLY ON THE ENDANGERED SPECIES LIST
Monarch butterflies are one of the most identifiable insects on the endangered species list with its bright orange wings and black veins connected to the black border. The attractive, winged creature was listed at endangered in December 2022, but was not officially added to IUCN Red List until July 2022, according to the IUCN.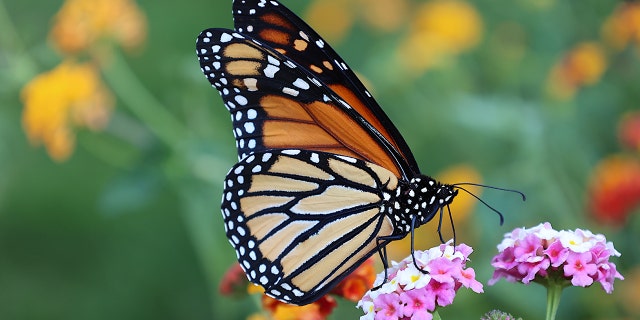 Monarch butterflies were listed endangered in 2018, but were officially added to the list in 2022. (iStock)
The World Wildlife Fund (WWF) suggests planting the correct species of milkweed to help monarch butterflies thrive, as their wintering habitat has dropped 22% in one year, according to a March 2023 article posted on worldwildlife.org.
4. How many pounds of eggs will a female loggerhead sea turtle lay?
The loggerhead sea turtle can lay upwards of 35 pounds of eggs in a single nesting season, noted the Alaska Department of Fish and Game. These sea turtles are also capable for traveling over 7,500 miles "between their nesting beaches and their foraging grounds," the government site continued.
SEA TURTLES ON FLORIDA'S SPACE COAST ON TRACK TO SET NEW RECORD FOR NESTS
5. What's the total population of red wolves?
The total population of red wolves is believed to be anywhere between 15 and 17, according to the US Fish and Wildlife Service (FWS). However, there are 12 affirmatively known through the use of radio-collars.
CLICK HERE TO SIGN UP FOR OUR LIFESTYLE NEWSLETTER
The red wolf was first considered to be "threatened with extinction" in 1967 under the Endangered Species Preservation Act. A new recovery plan for the endangered species was drafted on September 28, 2022, FWS continued.
The Milltail pack of wild red wolves has grown by 6!
Red wolf parents F2225 + M2323 welcomed 5 pups earlier this season, + they also opened their hearts + den to a cross-fostered pup born at @PtDefianceZoo. What a thrilling step forward for this family + red wolf recovery! 🐾 pic.twitter.com/lTQ57gcRni

— Wolf Conservation Center 🐺 (@nywolforg) May 10, 2023
6. How many species of hammerhead sharks are on the red list for extinction?
There are a total of 10 species of hammerhead sharks, but only two had made it to the International Union for Conservation of Nature (IUCN) Red List of Threatened Species.
The great hammerhead and the scalloped hammerhead are both considered to be endangered, but another two species, smooth hammerhead and the winghead are both noted as "vulnerable," reported the Australian Marine Conservation Society.
SHARKS: 12 INTERESTING FACTS ABOUT THE MARINE FISH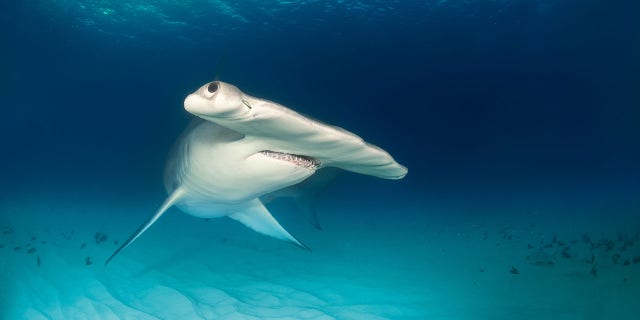 Hammerhead shark on the ocean floor (iStock)
A great hammerhead recently made headlines after a pregnant hammerhead shark, carrying 40 pups, was found dead an Alabama beach, Fox News Digital previously reported. The death is believed to be a result of "a fishing mortality," the article stated.
CLICK HERE TO GET THE FOX NEWS APP
Fox News Digital's Julia Musto contributed to this report.