A man in South Carolina experienced a scare when he briefly lost the engagement ring he'd been carrying with him for the beach proposal he planned at the start of the month.
The man, whose name has yet to be disclosed, arranged a couple's photo shoot in Myrtle Beach, which was supposed to end with a surprise marriage proposal on Saturday, July 1, according to a Facebook post shared by the Myrtle Beach Police Department.
The man is originally from Tennessee but had traveled to Myrtle Beach, South Carolina, for the proposal, the police department wrote in its post.
MAN RESCUES ENGAGEMENT RING, PROPOSES AFTER HOME BURNS DOWN
The officers also recruited patrolman Shon McCluskey and K9 Goggles to assist with the search for the ring — but there was no luck.
As the group scanned the sandy beach, a "local community member" reportedly joined the search and used a metal detector.
AFTER 'LONG SHOT' ATTEMPT TO FIND LOST RING, WOMAN OVERWHELMED BY 'KINDNESS OF STRANGERS'
"The ring was quickly returned to the gentleman for him to continue his proposal! For those of you wondering, she said yes," the department continued.
"The Myrtle Beach community pulls together any time, anywhere, for anyone! We wish the engaged couple a happy future!"
Commenters congratulated the couple on their engagement and shared their thoughts on the unique proposal story.
"This is such a wonderful story with a happy ending," one Facebook user wrote.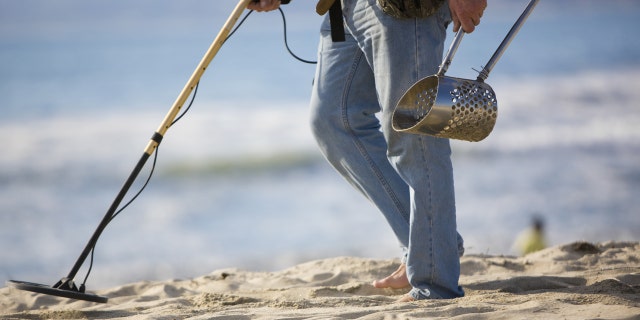 A local resident (not pictured) helped the Myrtle Beach Police Department find the lost engagement ring with a metal detector after a man lost it during a couple's photo shoot. (iStock)
"Amazing story to be retold for the rest of their lives," another user remarked. "[Great] job to all the kind folks that helped."
ENGAGEMENT-RING SHOPPING: WHAT YOU NEED TO KNOW BEFORE YOU BUY THAT ROCK
An engagement ring safety article published by Brides, a popular wedding planning magazine, recommends couples insure engagement rings before traveling and consider the destination they'll be going to before they wear or carry these pieces of jewelry.
Engagement rings can be lost or damaged when worn or taken to a beach, especially if the outing requires a lot of activity, said the publication.
"Even if you're in shallow water, your ring will likely be lost forever as it gets swept up in the current and sand."
CLICK HERE TO GET THE FOX NEWS APP
The same can happen in a pool, and chlorine water could be damaging to jewelry metals like platinum and gold, the magazine said.