At the conclusion of their previous Council of Europe summit, the 46 member states solemnly declared they would "bear witness to unprecedented pan-European unity."
Fast-forward 18 years, to the day, on Tuesday, and the same institution, Europe's pre-eminent human rights organization, faces a massive war on its own continent, forcing it to gather as many of its leaders as possible in Reykjavik, Iceland, to deal with the epochal crisis in Ukraine, one of its member states.
Perhaps more heed should have been paid to Russian Foreign Minister Sergey Lavrov's ominous warning at the 2005 summit in Warsaw that "Russia was, is and will be a major European nation."
Neither Lavrov, nor any Russian government official, will be flying to Europe's far-flung island nation, since the Council expelled Russia over its February 2022 invasion of Ukraine. The two-day summit will seek to reinforce a sense of common purpose and the defense of Ukraine stands out like a beacon.
The Strasbourg-based Council of Europe doesn't have the same high-stakes profile as, for example, the European Union but since its inception in 1949 it has been a guardian, with fluctuating success, of human rights, democracy and the rule of law on the continent. Rarely has the need been higher than in today's world.
RUSSIAN MERCENARY CHIEF OFFERED TO GIVE UP RUSSIAN TROOP POSITIONS TO UKRAINE: REPORT
Considering the plight at home and the rumblings about an imminent counteroffensive, President Volodymyr Zelenskyy might not make the long trip to the island just south of the Arctic Circle.
He will find plenty willing to do the talking for him.
"I will very strongly support the creation of a dedicated tribunal to bring Russia's crime of aggression to trial," said EU Commission President Ursula von der Leyen, who will join the likes of French President Emmanuel Macron, German Chancellor Olaf Scholz and dozens of other leaders. They will seek to add to the military and economic aid that many European nations have already sent to Kyiv.
During the two days of speeches, roundtables and diplomatic networking, the leaders will focus on legal issues.
The Council wants to make sure that Russia can be held accountable for what it sees as a plethora of crimes committed during the invasion. The summit will seek to create a register of all the damage already caused by Russian forces, so Moscow can be held liable for compensation to the victims later.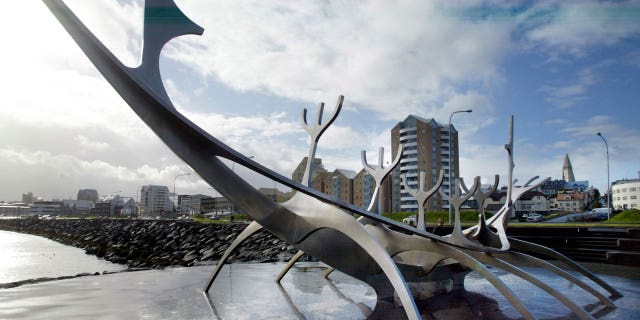 The Sun Sailor monument at the waterfront of Reykjavik, Iceland, on Sept. 5, 2003. (AP Photo/Frank Augstein, File)
"It will be a first step, but a very good step towards Russian compensation so far for Ukraine," von der Leyen said.
The Council is hoping that the United States, which has observer status at the summit, will also back that initiative.
It is not as if this is the only legal challenge Moscow faces. In March, the International Criminal Court said it had issued an arrest warrant for Russian President Vladimir Putin for war crimes, accusing him of personal responsibility for the abductions of children from Ukraine. Another official has also been indicted.
Since the start of the war, the Russians have been accused of deporting Ukrainian children to Russia or Russian-held territories to raise them as their own. Thousands of children have been seized from schools and orphanages during Russia's occupation of eastern Ukraine. Their whereabouts are still unknown.
The summit now wants to increase help in identifying and locating those children and beef up efforts to bring them home.
CLICK HERE TO GET THE FOX NEWS APP
Not that the whole Council of Europe is working in unison or doesn't have its own internal strife.
Only last week, the troops of two Council members, Armenia and Azerbaijan, exchanged artillery fire along their tense border, leaving at least one soldier dead and several others wounded. The latest bout of escalation between the longtime adversaries threatened to derail attempts at peace talks.
And some Council members, like Hungary and Serbia, still have a soft spot for Russia.
Serbia would send the lowest-level delegation possible, declared President Aleksandar Vucic, saying if Ukraine's territorial integrity was so central to the summit, that should equally apply to Serbia, whose former province of Kosovo declared independence.
"I won't go. It is a farce," he said.