Serbs have until June 8 to surrender all of their unregistered weapons in a push by the government to disarm society following back-to-back mass shootings.
Two mass shootings in consecutive days in early May rocked the Balkans nation, where the types of mass shootings seen so regularly in the United States rarely, if ever, happens.
A 13-year-old boy armed with his father's pistol killed nine people, including eight children, at an elementary school in Belgrade on May 3. Just one day later, a 20-year-old killed eight and injured 14 in a rampage through a town just south of Belgrade.
In response to the twin tragedies, President Aleksandar Vucic set out on a mission to cleanse Serbia of firearms. Unlike most European countries, Serbia has many illegal guns throughout its society. Serbia has been awash in guns and the proliferation of firearms is mostly a legacy of the Yugoslav wars of the 1990s. Serbia is tied for third with Montenegro in gun ownership in the world, behind the United States and Yemen.
While many in Serbia blame Vucic for the general culture of promoting violence in the media, disarming the population is mostly a welcome measure.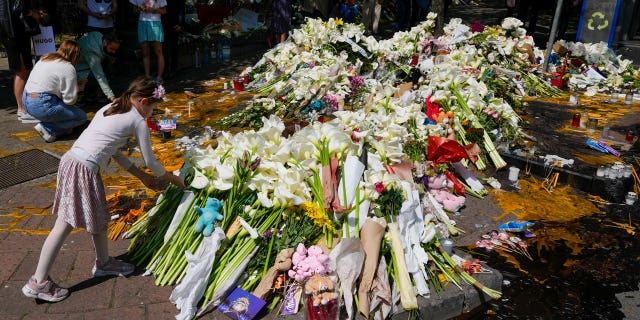 A girl lays flowers for the victims in front of the Vladimir Ribnikar school, two days after a 13-year-old boy used his father's guns to kill eight fellow students and a guard, in Belgrade, Serbia, on May 5, 2023. (AP Photo/Darko Vojinovic)
"This is probably the greatest shock and tragedy to befall on Serbian society," Helena Ivanov, associate fellow at the Henry Jackson Society, told Fox News Digital.
Day-to-day life in Serbia has nearly come to a halt as the nation remains in mourning and grapples with a new and unforeseen threat. Thousands of people took to the streets over several days to protest the outbreak of violence and demand the government take action.
"Thus far, most of the requests of the protesters have not been fulfilled, and we are yet to see how things will develop going forward. But the situation in the country is far from good, and one gets a sense that people are on the edge," Ivanov said.
US ACCUSED OF RETREATING FROM NATO ALLY ALBANIA AS RUSSIA LOOKS TO GROW REGIONAL INFLUENCE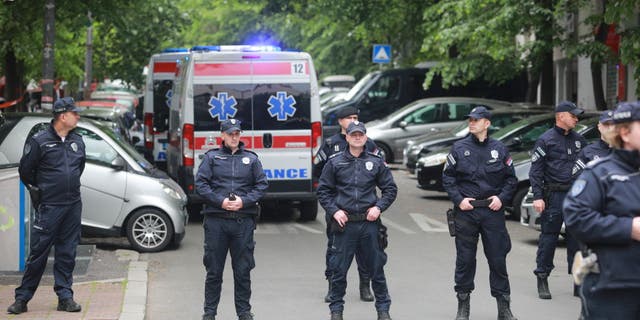 Police take security measures after a 7th grade student opened fire at the school, in Belgrade, Serbia, on May 3, 2023. It is reported that a security guard and nine children were killed in school. (Photo by Milos Miskov/Anadolu Agency via Getty Images)
Even though Serbia has a high rate of gun ownership compared to the rest of the EU, gun laws remain very strict and semiautomatic weapons are illegal. Unlike the U.S., Serbia has no equivalent of the National Rifle Association lobbying for the right to bear arms as protected by the Second Amendment.
CLICK HERE TO GET THE FOX NEWS APP
"It is limited to a one-month period, and it is unrealistic to expect that over one million illegally possessed firearms will be turned in within such a short timeframe," Predrag Petrovic, Research Director of the Belgrade Center for Security Policy, told Fox News Digital.
Speaking to reporters on Sunday, President Vucic said that since the announcement, over 68,000 weapons and explosive devices were voluntarily surrendered to authorities. The hand-over of the illegal weapons is seen by many as a step in the right direction, but as Petrovic notes, the number of weapons surrendered compared to the number of weapons in society is "just a drop in the ocean."