Here come the brides.
That's what diners of the True Food restaurant in Houston, Texas, saw on May 18 after a family of seven women donned wedding gowns during their last girls' night.
Alexis Houston, 25, a lifestyle content creator, uploaded a snippet of the outing to Instagram on May 19 which featured her mother, Terri Bonin, 54, her sisters Madeleine Frost, 28, Sydnie Bonin, 26, Annalise Hiley, 23, and Kate Bonin, 18 and her sister-in-law Hannah Joy Bonin, 30.
BRIDE WHO WENT VIRAL FOR MAKING HER OWN WEDDING CAKE RESPONDS TO CRITICS: 'AMAZING EXPERIENCE'
 
 

 
 
View this post on Instagram
 

 
 
 

 
 

 
 
 

 
 

On a phone call with Fox News Digital, Madeleine, Sydnie and Hannah Joy revealed the unique family outing came after one of the Bonin sisters found a similar video of a group of women rewearing their wedding dresses.
After a brief back and forth, the tight-knit group of seven decided they should don their own wedding gowns or their most-expensive evening gowns for a one-of-kind ladies' night.
"We decided, OK, let's do it," said Hannah Joy. "We always go to dinner once a month anyway and we already had a 'sister date' planned for that following week."
WOMAN ON TIKTOK CALLS OUT WEDDING GUESTS WEARING WHITE TO FRIEND'S WEDDING: 'RUDE'
Madeleine, Sydnie, Analise and Hannah Joy wore their wedding gowns while Terri, who couldn't find her wedding gown from the 1980s, wore Sydnie's white prom dress, and Kate, who's unmarried, wore a white dress she found day-of.
GEORGIA COUPLE BUYS CHILI'S FOR WEDDING GUESTS, FEEDS 99 PEOPLE FOR LESS THAN $2K: 'LOVED THE PRICE'
The sisters said they're hoping to find Terri's wedding gown, as they're hoping to make their wedding-themed dinner an annual tradition.
"We usually go out just in normal attire, but we had so much fun dressing up," said Madeleine. "Now we're talking about doing themed girls' nights rather than just regular girls' nights."
"We're already close, and now we have this really strange experience to reflect on," she explained.
While the group of seven expected to catch the eyes of locals and their social media followers, none of them thought they'd go viral with millions of views and hundreds of thousands of likes.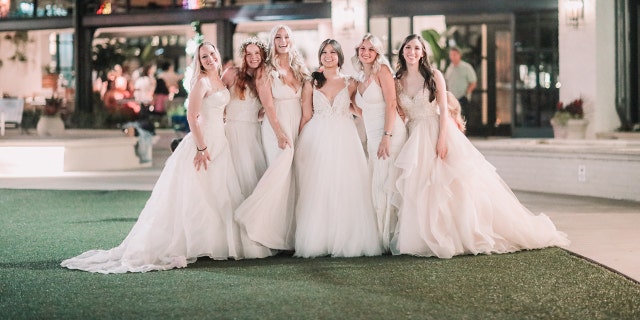 The 'Bonin Girls' also call their monthly dinner outings "sister dates." (Madeleine Frost)
"Going viral wasn't our intention that night," said Hannah Joy. "We just wanted to pull out our dresses, relive memories and make ones."