A Florida man allegedly drove a car through the front doors of a convenience store in Seffner at a high rate of speed on Tuesday morning, trapping a pedestrian between the car and a metal structure, video shows.
The Hillsborough County Sheriff's Office said Anthony Katosh, 37, drove a Kia Forte into the Travel Centers of America on Gateway Boulevard just before 12:30 a.m. on June 20.
Police said a man was walking into the store just as Katosh's car slammed into the building.
As a result, the man was pinned between the driver's side door of the Kia and a metal structure inside the store.
FLORIDA WOMAN ARRESTED AFTER POLICE ALLEGEDLY FIND METH, BABY RACCOON IN BACKPACK
Katosh has been charged with criminal mischief resulting in more than $1,000 worth of damage.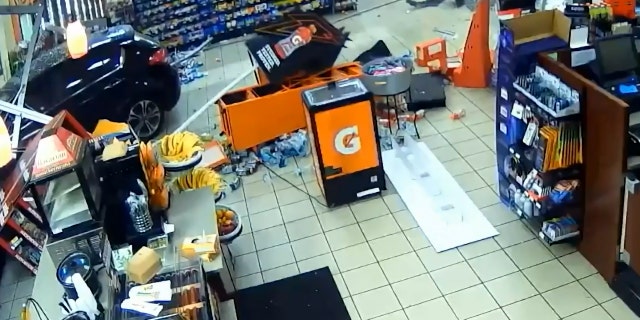 A Florida man drove through the front of a convenience store at a high rate of speed in Seffner on Tuesday morning. (Hillsborough County Sheriff's Office)
CLICK HERE TO GET THE FOX NEWS APP