A Tampa-based nonprofit is on the ground in Kherson, Ukraine, rescuing residents impacted by the collapse of the Kakhovka dam.
Project Dynamo, a combat-veteran-led international rescue organization, has been in Ukraine since Russia invaded in February 2022 and primarily works in the occupied areas.
"The bulk of our operations have been in the south, we've done a lot of things in the east also, but about 80% or more of our operations have been in Russian-occupied Ukraine, in the southern provinces, in the southern oblasts," co-founder Bryan Stern told Fox News Digital.
Stern's team has already completed dozens of operations close to the Kakhovka dam and is working on setting up more maritime operations in Kherson.
KREMLIN DENIES FAULT FOR KAKHOVKA DAM COLLAPSE, CLAIMS KYIV WANTS TO BLOCK WATER ACCESS TO CRIMEA
"People, animals have died," he told Politico Europe. "From the roofs of the flooded houses, people see drowned people floating by. You can see that on the other side. It's very hard to get people out of the occupied part of Kherson region. When our forces try to get them out, they are shot at by occupiers from a distance."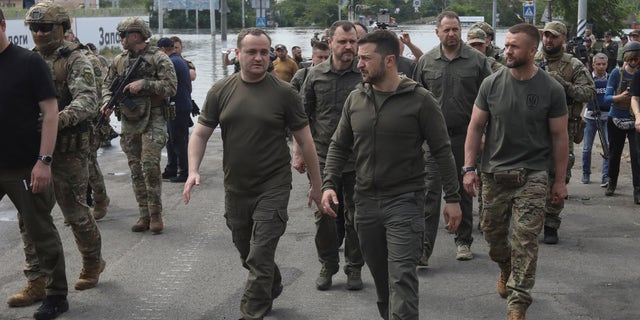 President Volodymyr Zelenskiy visits flooded area after the Kakhovka dam breached, in Kherson, Ukraine, June 8, 2023. (Reuters/Stringer)
Stern said his team hasn't come under fire but he wouldn't be surprised if Russian soldiers were shooting at people in the area because they've "always targeted civilians." "This is very consistent with the way the Russians fight," he added.
Stern added that words weren't enough to describe what the family had been through. "Frustrating is the wrong word, but it's just… like they're kind of like 'Really?' You know, bad enough we got bombed, bad enough we had to change our whole lives. Our businesses are over. Our kids are out of school, our friends are dead, all these terrible things. And finally, we get liberated and finally, we're able to come back. And now this… frustration is the wrong word, but it's just… this constant theme of suffering. It just doesn't seem to end," he told Fox News Digital.
CLICK HERE TO GET THE FOX NEWS APP
The retired Navy officer said the organization is in dire need of more boats and a jet ski to continue their rescue operations. People interested in donating can visit ProjectDynamo.org.