Retired NASA astronaut Nicole Stott spoke with Fox News Digital to discuss the vital role of the United States in leading the space industry, the benefits of public-private partnerships and how space exploration ultimately impacts life on Earth.
"If we want humanity to survive into that very distant future, we've got to be thinking about space," Stott said.
Stott spent more than 28 years at NASA, working as an engineer on the space shuttle and space station programs before transitioning to astronaut training. She spent 104 days in space, primarily on the International Space Station.
Space, for Stott, means the future for life on Earth, and also for life beyond our planet. "When we talk about being a multi-planetary species, it's got to go beyond just traveling to Mars," she said, sharing a vision of a future where humanity goes outside our solar system.
"We will collaborate with commercial and international partners and establish the first long-term presence on the Moon. Then, we will use what we learn on and around the Moon to take the next giant leap: sending the first astronauts to Mars," NASA says its Artemis program's official webpage.
"It is absolutely going to be us going back to the Moon as an international partnership and looking for the countries that want to do that in a positive, peaceful way with that mission in mind," Stott added.
Stott shared her experience on the International Space Station, where the crew representing 15 countries worked together on common goals, pointing out that the role of the U.S. in leading cross border collaborations in space exploration cannot be overstated. She said it's the "key to everything we need to do here on Earth to solve our greatest planetary challenges."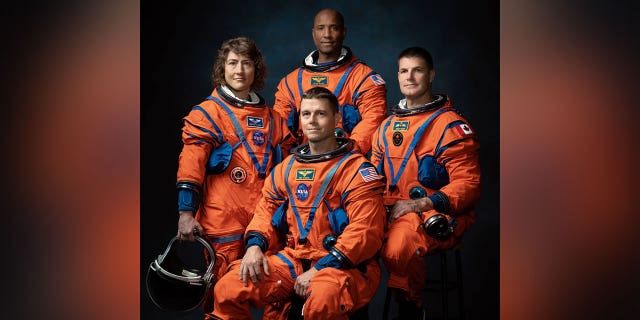 The crew of NASA's Artemis II mission (left to right): NASA astronauts Christina Hammock Koch, Reid Wiseman (seated), Victor Glover, and Canadian Space Agency astronaut Jeremy Hansen. (NASA)
Underlying the need for the U.S.'s leadership in space exploration is developing technology to support life on Earth today. Whether it's gaining a better understanding of human bones, muscles, our cardiovascular system, our vision, or creating technology such as GPS, memory foam and more, "it's coming to us from space. And one way or another, everything we do in our lives, I think right now is positively impacted by what we're doing in space," Stott said.
It's not just large companies like SpaceX leading the way of inspiring the next generation, Stott believes nonprofits like, U.S. based, Space for a Better World and initiatives such as Aim Higher, a series of "public outreach and B2B events," play an important role as well. "It's all about providing that connection and helping people establish that relationship to these really awesome and wonderful things that are going on around them," Stott said.
NASA ARTEMIS I MOON MISSION ROCKET DAMAGED MORE THAN EXPECTED IN LAUNCH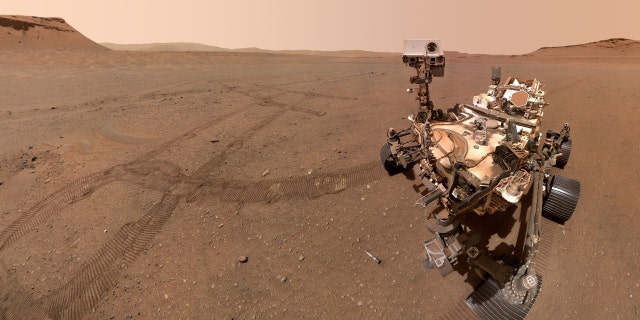 NASA's Perseverance Mars rover took a selfie with several of the 10 sample tubes it deposited at a sample depot it is creating within an area of Jezero Crater nicknamed "Three Forks." (NASA/JPL-Caltech/MSSS)
Aim Higher Romania organizers, astronaut manager and president of Purpose Entertainment Christina Korp, and OP Global Events Founder and CEO Oana A. Tucker, hope their efforts encourage other countries to aim higher and become educated about what's going on in space.
"When we go to space, it is truly an international endeavor of countries cooperating," Korp said.
CLICK HERE TO GET THE FOX NEWS APP