A former detective who worked undercover for the New York Police Department claims he was denied backup from other officers during violent confrontations because he is White.
Marine veteran John Olsen filed a lawsuit in Manhattan Supreme Court in June over alleged race discrimination and military status discrimination after he said he was assigned undercover work in a largely Hispanic neighborhood.
"Detective Olsen, while working as an undercover detective for the NYPD, was assigned to a predominately Hispanic neighborhood which, as a White undercover, increased the danger of his job, lessened his ability to make safe drug buys and angered his bosses," Olsen's attorney John Scola told Fox News Digital.
The lawsuit claims he was allegedly left without backup from minority NYPD members during violent confrontations with drug dealers, including near-fatal incidents, due to his skin color.
"A White undercover, this will be fun," Olsen heard on his first day of training in 2019 to become an undercover detective, according to the lawsuit obtained by Fox News Digital. He was the only White officer in the training, according to the suit.
The comment was one of the first in a series of racially-charged incidents and comments Olsen allegedly faced when he was transferred to the Northern Manhattan Detective Bureau in 2019. Olsen joined the NYPD in 2015 after serving in the Marine Corps in Afghanistan, and was later transferred to the NYPD's specialized Anti-Crime Unit and then finally his undercover assignment.
Just a couple of months on the job, Olsen was reportedly surrounded by suspects, punched in the face and threatened that his life would end during a Harlem drug buy. A car full of detectives allegedly watched the scene but did not intervene, according to the suit.
"They watched [the attacker] walk back inside the housing projects," Olsen said, according to the New York Post. "It was totally against our rules for narcotics to let that go."
Every undercover in the department is required to have another member of the force, known as a "ghost," on the same block in case an operation spirals into violence.
Olsen was apparently attempting to buy crack in Hamilton Heights when another dealer who was previously arrested was spotted by an NYPD field team approaching the other dealer preparing to sell Olsen crack. The other NYPD members reportedly did not flag Olsen about the presence of the other drug dealer and was "again operating without a proper 'ghost' due to his race," according to the suit.
The dealer selling crack returned to Olsen after getting the drugs from a stash location and attempted to get Olsen to smoke the substance to prove he was not a cop, according to the allegations. Olsen tried to talk his way out of the situation, according to the suit, before the dealer allegedly pulled a knife and threatened to stab Olsen multiple times.
"My life was in danger and I know that no one is coming to save me because of that last time, so I had to do what I had to do," Olsen said, according to the New York Post.
Then in September 2020, Olsen tested positive for COVID-19, which reportedly made one of his bosses "furious."
After he returned to work, he was transferred from northwest Manhattan to East Harlem and the Upper East Side, he said. His other colleagues who also contracted COVID-19 – who were Hispanic and Asian – were not transferred when they returned to work and were instead offered more overtime opportunities that totaled up to $25,000 each that year compared to Olsen, he claimed.
POLICE CAPTAIN ALLEGEDLY SENT PENIS PHOTOS, OFFERED FEMALE DETECTIVE FAVORS FOR PANTIES: LAWSUIT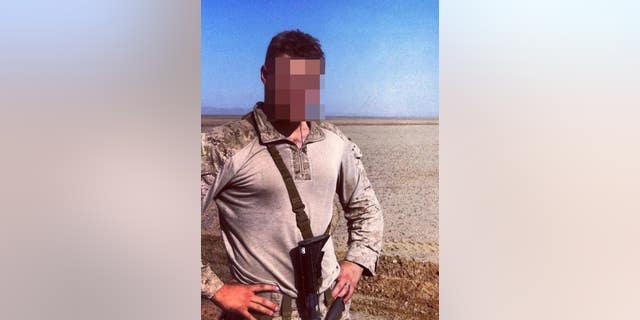 Former NYPD detective John Olsen seen during his military service. (John Scola)
"I did not expect that at all," Olsen continued. "He said it was because I was a military guy, but I think it was also because I was a White undercover and they were trying to get rid of me."
Olsen ultimately resigned from the force in May of last year, 13 years before he was eligible to receive an NYPD pension.
FAMILY OF CHINATOWN WOMAN STABBED TO DEATH BY HOMELESS CAREER CRIMINAL SUES NEW YORK CITY, NYPD OFFICERS
"I fought in Afghanistan, I was in special ops in the South Bronx, I was an undercover in Narcotics in Harlem, but I think that was one of the most traumatic experiences of my life — having the whole NYPD weaponized against me," Olsen told the New York Post.
CLICK HERE TO GET THE FOX NEWS APP
He is suing for unspecified damages over race and military service discrimination. The NYPD declined to comment on pending litigation when approached by Fox News Digital.