Two more swimmers were reportedly attacked by sharks in the waters near New York beaches this week.
The men were bitten by sharks off Long Island, including one bite in the hand at Fire Island Pines and the other in the knee in Quogue, according to FOX 5 New York.
The incidents occurred around 60 miles apart and just a day after two others reported being attacked.
The Village of Quogue Police Department said Tuesday that it had been notified of an injured individual at the Quogue Village Beach at approximately 1:50 p.m. ET.
Shortly after, a 49-year-old man reported having a hand bitten while swimming near Fire Island Pines Beach, according to The Associated Press.
The Suffolk County Police Department wrote on Facebook that one man had been bitten at 1:55 p.m., and the second at 4:25 p.m. The second victim was also transported to an area hospital for the treatment of non-life-threatening injuries.
The department said it was increasing its shark patrols in response to the recent events.
Swimmers were told to stay close to shore when the beach reopened.
These incidents follow separate attacks on Monday.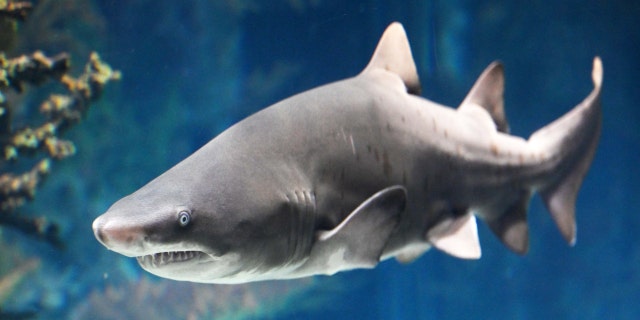 A sand tiger shark in the Scientific Center aquarium in Kuwait on July 5, 2022. (Asad/Xinhua via Getty Images)
A 15-year-old boy was surfing when he was bitten on his left foot at 5:20 p.m. at Kismet Beach, and a 15-year-old girl was treated for an apparent shark bite to a leg, although George Gorman – the regional director with New York State Parks – told Newsday that they could not definitively say what bit her.