White House press secretary Karine Jean-Pierre's claim that no members of the Biden family were present at the White House in the days leading to the discovery of a bag of cocaine in the West Wing has been contradicted by the Fox News press pool report on one of those very days.
According to the Friday, June 30 pool report, Biden gave remarks in the Roosevelt Room that afternoon, and didn't depart the White House for Camp David until 6:34 p.m., along with First Lady Jill Biden, Hunter Biden, and Hunter's son Beau Biden.
However, Jean-Pierre claimed Friday while angrily responding to a reporter's question about whether the cocaine belonged to a member of the Biden family that they weren't present at the White House on that day.
WATCH: PRESS SECRETARY LOSES IT WHEN ASKED IF WH COCAINE BELONGED TO BIDEN FAMILY: 'INCREDIBLY IRRESPONSIBLE'
REPUBLICANS QUESTION REPORT WHITE HOUSE 'COCAINE CULPRIT' MAY NOT BE FOUND" 'DIFFICULT TO ACCEPT'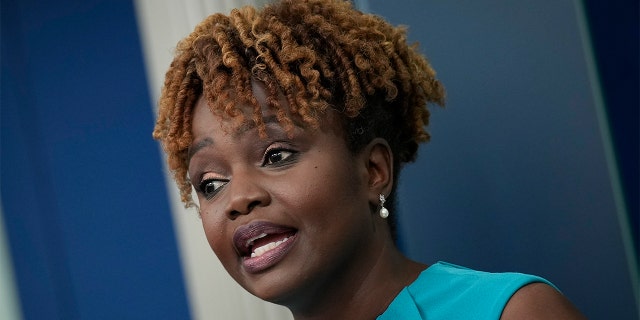 White House Press Secretary Karine Jean-Pierre speaks during the daily press briefing at the White House July 7, 2023 in Washington, DC. (Drew Angerer/Getty Images)
One source told Fox News Digital on Thursday that the Secret Service still didn't have any suspects in the investigation surrounding the cocaine, and that it wasn't clear if the culprit would ever be found.
CLICK HERE TO GET THE FOX NEWS APP