Rep. Matt Gaetz, R-Fla., stumped the head of the Air Force Academy on Wednesday during a tense hearing about race and gender-based admissions practices at military colleges and universities.
Lt. Gen. Richard M. Clark was unable to define gender identity terms like "agender" and "demigender" that were listed in eligibility guidelines for a fellowship that's open to Air Force cadets and other Americans, something Gaetz noted during their heated exchange.
"You're literally pushing a program in the academies that says, 'If you're a cisgender woman, a transgender woman, a non-binary, agender, bigender, two-spirit, demigender…' What's 'demigender'?" Gaetz asked.
"Sir, that's a term of the people that are eligible for that particular scholarship, that is available to," Clarke said.
"I'm not really sure, sir," Clark said. Gaetz then asked if he knew what "agender" meant, and the general again said he didn't know.
MILITARY VETERANS CUT OFF FROM US BASES IN ONE COUNTRY, STRIPPING THEM OF LIFELINE TO HOME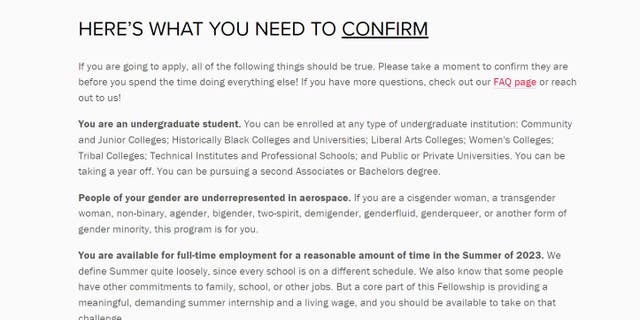 A screenshot of the Brooke Owens fellowship website outlines some of the eligibility terms.
The Brooke Owens fellowship that Gaetz was referring to is open to "women and gender-minority students in aerospace," according to its website.
TOP AIR FORCE LEADER RAISES ALARM ON SLUMPING STANDARDS AMID CHINA, RUSSIA THREATS: 'SECOND BEST WON'T CUT IT'
Under its eligibility requirements, the site says, "If you are a cisgender woman, a transgender woman, non-binary, agender, bigender, two-spirit, demigender, genderfluid, genderqueer, or another form of gender minority, this program is for you."