An explosion at a residential building in Germany that left nine first responders seriously injured appears to have been a planned attack carried out by a man wanted in connection with an unpaid fine, officials said Friday.
Police and firefighters had gone to the building in the western town of Ratingen on Thursday after receiving a call about a helpless person inside a top-floor apartment.
What started out as a routine operation turned into an inferno when a man opened the apartment door and threw out a burning object that exploded into a fireball, severely injuring the first responders.
EXPLOSION AT GERMAN RESIDENTIAL BUILDING INJURES 12, SUSPECT DETAINED
"We are deeply shocked," said Thomas Hendele, who heads the administration in Mettmann county, of which Ratingen is a part. "We are angry. Angry at this act, for which there is no justification."
A special operations unit detained a 57-year-old German man as a suspect hours later.
Investigations showed the man had stockpiled flammable liquids in the building, indicating he had prepared for the attack, police said.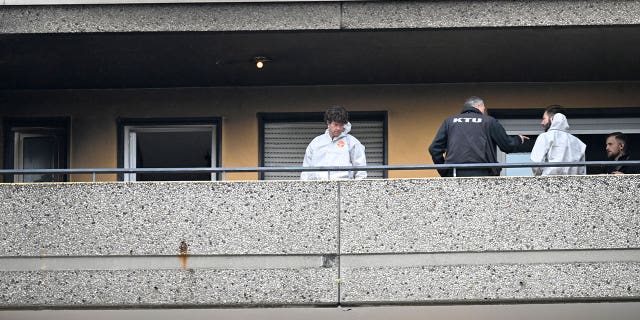 Forensics inspect the scene of an explosion in a high-rise building the day after the blast severely injured several police and firefighters in Ratingen, Germany, on May 12, 2023. (Roberto Pfeil/dpa via AP)
Of the nine people who suffered serious injuries, two police officers and three firefighters were fighting for their lives with burns across much of their bodies, Hendele said.
"We can't be sure whether they will survive this battle," he said.
Twenty-two police officers also suffered minor injuries in the incident.
BOSTON MARATHON SURVIVORS REFLECT, SHARE OUTRAGE OVER CONVICTED BOMBER COLLECTING COVID-19 FUNDS
Police officers found a body inside the apartment believed to be that of the suspect's mother, investigator Heike Schultz said. The woman appeared to have been dead for several weeks.
An elderly man was also found dead elsewhere in the building. Authorities are investigating the circumstances of his death; German media reported he may have died after not receiving care due to the ongoing police operation in the building.
Schultz said there were indications that the suspect subscribed to conspiracy theories about the coronavirus pandemic.
"It's still unclear whether that was a motive," she added.
An officer tried to enforce an arrest warrant for the man last week over an unpaid fine, but was unable to do so, authorities said. Thursday's police operation was unrelated to that warrant, police said.
Laura Neumann of the Duesseldorf prosecutors' office said the man was being held on nine counts of attempted murder while the investigation continued.