EXCLUSIVE: Sen. Eric Schmitt, R-Mo., is pledging to keep a close eye on the Biden administration after a judge blocked key agencies and departments from communicating with social media companies to avoid potential First Amendment violations.
Schmitt, who filed the lawsuit last year when he was Missouri's attorney general, told Fox News Digital he believes the case revealed "perhaps the most chilling example" of a government coordinating with private businesses to restrict free speech.
"That's at the heart of this case," he said of the First Amendment issue. "Government's job is to protect those rights, not to infringe upon those rights. And what's been uncovered here is perhaps the most chilling example and shocking example of government colluding with some of the most powerful companies in the history of the world to suppress speech."
Louisiana U.S. District Judge Terry Doughty, a Trump appointee, said there was "substantial evidence" the Biden administration engaged in "dystopian" stifling of speech during the COVID-19 pandemic in a biting 155-page opinion released on Tuesday.
"[T]he evidence produced thus far depicts an almost dystopian scenario. During the COVID-19 pandemic, a period perhaps best characterized by widespread doubt and uncertainty, the United States Government seems to have assumed a role similar to an Orwellian 'Ministry of Truth,'" Doughty wrote. "The Plaintiffs have presented substantial evidence in support of their claims that they were the victims of a far-reaching and widespread censorship campaign. This court finds that they are likely to succeed on the merits of their First Amendment free speech claim."
Now in the Senate, Schmitt said he intended to keep following the case using the powers of "legislation and oversight" his role in Washington calls for.
BIDEN ADMINISTRATION PUSHING TO MAKE AI WOKE, ADHERE TO FAR-LEFT AGENDA: WATCHDOG
Schmitt also signaled he would follow his promise with letters to ensure the compliance of the Biden administration and social media companies.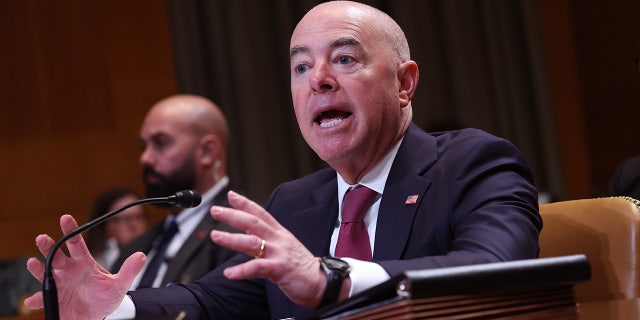 In addition to key agencies, the injunction also names figures like Homeland Security Secretary Alejandro Mayorkas. (Getty Images)
CLICK HERE TO GET THE FOX NEWS APP
"Whether that's legislation or oversight, you know, I'm going to be in the middle of that fight every step of the way. And this is not a just a short-term thing for me. This is something that… is a core belief that I have."
Fox News Digital reached out to the White House for comment but did not immediately hear back.