FIRST ON FOX – Republican senators on Tuesday introduced legislation that would ban taxpayer-funded drag queen events on military bases, following reports that Malmstrom Air Force Base in Great Falls, Montana hosted a drag queen story hour for children on base in 2021.
The bill, led by Sena. Steve Daines, R-Mont., says that no funds "appropriated or otherwise made available for the Department of Defense and no facilities owned or operated by Department of Defense may be used to host, advertise, or otherwise support an adult cabaret performance."
The bill defines "adult cabaret" as a performance that features topless dancers, go-go dancers, exotic dances, strippers, or male or female impersonators who provide entertainment that appeals to prurient interest.
"Our military's mission is clear: to provide the military forces needed to deter and win wars and to protect the security of our country and our allies," Daines said in a statement.
US NAVY PLATFORMED 'DRAG QUEEN INFLUENCER' TO ATTRACT YOUTH TO THE MILITARY IN HIRING CRISIS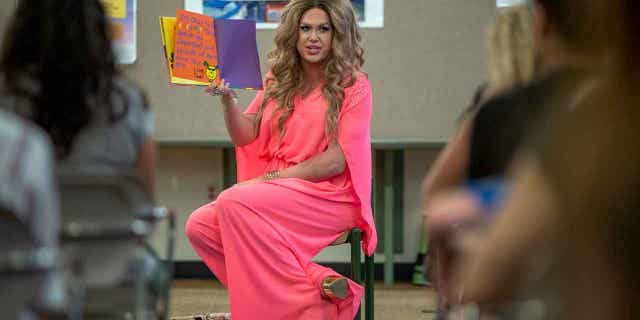 A new GOP bill would ban all drag-related events from military bases. (David McNew/Getty Images)
"Allowing the DOD to become a branch of far-Left helping to promote their radical gender ideology by hosting and promoting drag queen performances is a threat to our national security and gross misuse of taxpayer funds. This must be stopped immediately," he said.
The bill is co-sponsored by Sens. Tom Cotton, R-Ark., Kevin Cramer, R-N.D., Ted Budd, R -N.C., and Marco Rubio, R-Fla.
Daines also sent a letter Tuesday to DOD Secretary Lloyd Austin for clarity on Austin's comments in congressional testimony in March that he was unaware the event was happening and claimed that drag shows are not supported or funded by the department.
Daines says Austin later confirmed the event in an April letter, in which he said that the "Department of the Air Force 'values an inclusive and supportive environment' because it 'enables Service members to focus on mission and being part of a high performing team.'"
DRAG PERFORMER SPEAKS OUT AGAINST ALLOWING KIDS TO ATTEND DRAG SHOWS: 'THIS IS AN ADULT VENUE'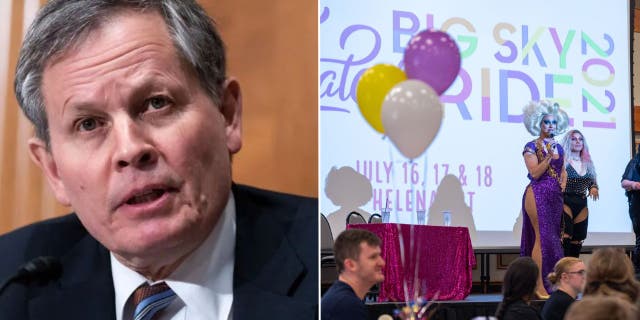 Steve Daines and Drag Queen Story Hour held on Malmstrom Airforce base (Getty/Malmstrom AFB FB Page)
"How do you reconcile that claim with the testimony you and General Milley gave on March 29, specifically General Milley's emphatic statement that these events should not be happening?" Daines questioned in his letter this week.
NORTH CAROLINA BILL WOULD CRIMINALIZE DRAG SHOWS AFTER VIRAL LAP DANCE VIDEO
"As I said in the first letter I sent you on Mach 31, 2023, when it comes to the crisis of military recruitment, it is clear that activities like 'Drag Story Time' only weaken cohesion and morale and further degrade the recruitment and retention of men and women serving our country in uniform," Daines said.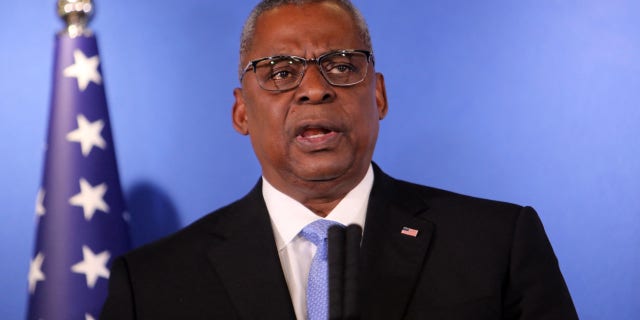 U.S. Secretary of Defense Lloyd Austin delivers a statement to the press at the Israel Aerospace Industries (IAI) headquarters near the Ben Gurion airport in Tel Aviv, on March 9, 2023. (GIL COHEN-MAGEN/AFP via Getty Images)
In an op-ed published in May, the Montana Republican noted that "the 341st Missile Wing at Malmstrom controls 150 ICBMs, the most powerful nuclear weapons known to mankind," and said it was "particularly disturbing for me to see evidence of the left's agenda at work at" at the base from the drag show, which was also promoted on the base's official social media.
"The government's top priority is to protect U.S. citizens and provide for our national defense. Nothing is worth putting our national security on the line, especially not ideological pandering that distracts from core military objectives and keeps some of our finest men and women out of our armed services altogether," Daines stated.