Nearly five dozen conservative Republican lawmakers are demanding that border security be part of any deal struck to raise the debt ceiling, calling the House GOP's recently passed bill on the issue a "starting point" for such talks.
The note, led by Republican Study Committee Chair Kevin Hern, R-Okla., also accused President Biden and Senate Majority Leader Chuck Schumer, D-N.Y., of a "dereliction of duty" when it comes to the border.
The 57 GOP lawmakers argued "the security of our border is inextricably linked to the fiscal security of our nation."
"As we speak, the United States is experiencing a rapidly worsening border crisis and barreling toward a debt limit crisis," read the Republican Study Committee letter sent to President Biden and congressional leaders on Thursday. "Let's be very clear, these crises are a direct product of the failed policies and neglect of President Biden and Congressional Democrats. We believe each of these issues should be considered together during your current debt limit negotiations."
WHAT IS THE DEBT CEILING, AND WHAT DOES IT MEAN FOR YOU?
They also called on debt limit negotiators to go a step further and consider additional measures to keep federal funding from helping illegal immigrants, such as specific exclusions from federal benefits and cutting off funding to sanctuary cities.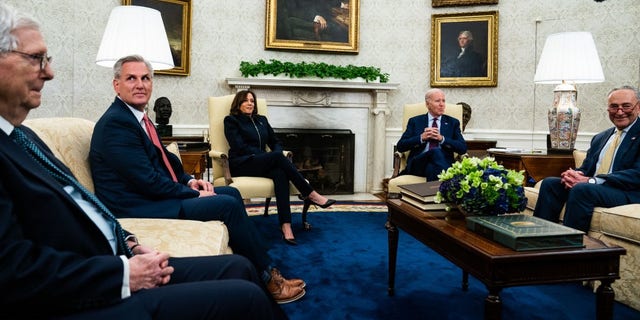 President Biden and his officials have been meeting with congressional leaders to find a debt ceiling compromise before June 1.
The GOP's Limit, Save, Grow Act, which narrowly passed the House last month, would cut about $150 billion in discretionary spending from this year to the next while also raising the debt limit by $1.5 trillion.
HOW BIDEN AND AMERICANS WOULD BENEFIT IF PRESIDENT SIGNS HOUSE REPUBLICANS' DEBT CEILING INCREASE BILL
High-level staff meetings are being held between officials at the White House and aides for House Speaker Kevin McCarthy, R-Calif.
The two parties are facing a deadline for a debt ceiling deal of sometime after June 1, which is when the Treasury Department estimates that the government will no longer be able to pay for current spending obligations without more borrowing. Biden and his allies in Congress have said Congress should raise the debt ceiling immediately, while Republicans have said they can only support this increase if it is paired with spending reductions.