The pride for America shown by one small business is through the roof.
A hardware store in Nashville, Indiana, called Bear Hardware, had a sprawling mural of the American flag painted on its roof by painter Adam Long.
During an appearance on "Fox & Friends" on Monday, Long shared how the painting, which took 14 days to complete, was a request from the store owner to show off the store's patriotism.
ARTIST REVEALS PAINTING OF OUR AMERICAN FLAG IN 'THE GREATEST COUNTRY IN THE WORLD'
Once Long checked out his rooftop canvas, he realized it was an opportunity to "go a little bit bigger."
"What if we did something that really … went national?" he said on "Fox & Friends."
"[What if] people really saw this and showed your pride?"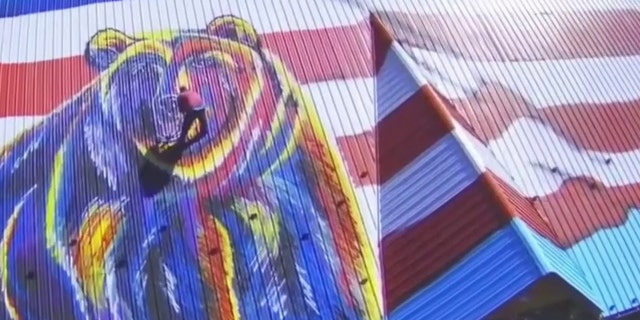 Indiana painter Adam Long (above left, near the bear's mouth) is shown working on his mural on the roof of Bear Hardware in Nashville, Indiana. (Adam Long)
The mural, which measures more than 10,000 square feet, can be seen from "several different places" in the city, Long said.
PATRIOT CRATES FROM WISCONSIN ARE FILLED WITH 100% AMERICAN-MADE PRODUCTS: 'GREAT COLLABORATION'
"You really have no concept until you get up on the roof like this of how big it is," he said while standing on the roof.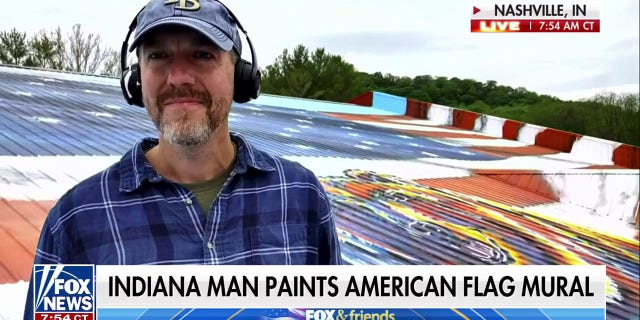 Indiana painter Adam Long joined "Fox and Friends" on May 15, 2023. (Fox News)
Long's artwork depicts the wide American flag with an eagle soaring off to the right and a grizzly bear set off to the left.
It pays tribute to the store owner's brother, whose name is Barry.
Long, who is from Bloomington, Indiana, revealed that he's only been painting for five years.
CLICK HERE TO SIGN UP FOR OUR LIFESTYLE NEWSLETTER
"I just wanted to do something that would be seen and would give a lot of pride in Nashville, Indiana," he said.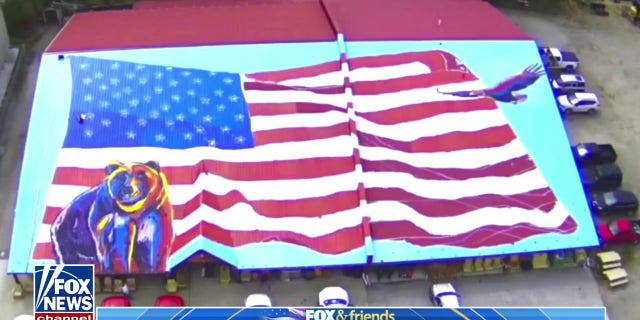 Shown here, the 10,000-square-foot patriotic mural as painted on top of Bear Hardware in Nashville, Indiana. (Fox News)
"It was a daunting task, a little bigger than I thought it would be, but we knocked it out … We tore it up."
Long described the response to the mural as "overwhelming."
CLICK HERE TO GET THE FOX NEWS APP
"People recognize the amount of work here, which is always gratifying," he said.
"But definitely hearing things from across the country now in appreciation."