Jason Aldean denies that his song, "Try That in a Small Town," has racial undertones in the wake of online backlash after his music video was released last week.
Aldean, 46, rejected the notion that the tune, which hit airwaves in May and only recently received visuals, referenced "race or points to it." In the music video, Aldean touts how small towns wouldn't put up with the kind of riots and lawlessness many cities across the country faced during the summer of 2020.
"In the past 24 hours I have been accused of releasing a pro-lynching song (a song that has been out since May) and was subject to the comparison that I (direct quote) was not too pleased with the nationwide BLM protests," Aldean shared with his nearly 8 million fans across social media.
"These references are not only meritless, but dangerous."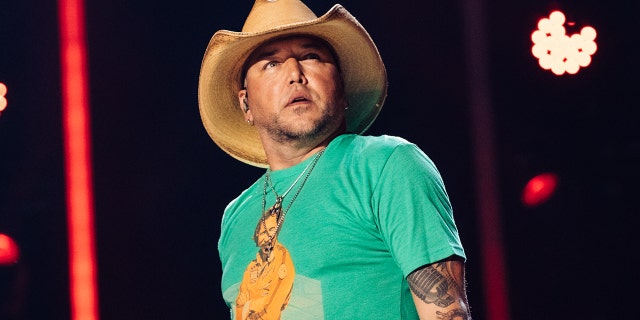 Jason Aldean defended his "Try That in a Small Town" music video. (Monica Murray)
"There is not a single lyric in the song that references race or points to it- and there isn't a single video clip that isn't real news footage -and while I can try and respect others to have their own interpretation of a song with music- this one goes too far," he wrote in posts shared on Instagram and Twitter.
JASON ALDEAN SUFFERS FROM HEAT STROKE IN HARTFORD, RUNS OFF STAGE MID-PERFORMANCE
Some of the lyrics in the song included in his forthcoming album include, "Yeah, ya think you're tough? Well, try that in a small town, see how far ya make it down the road. Around here, we take care of our own, you cross that line, it won't take long for you to find out, I recommend you don't."
CLICK HERE TO SIGN UP FOR THE ENTERTAINMENT NEWSLETTER
He added, "My political views have never been something I've hidden from, and I know that a lot of us in this Country don't agree on how we get back to a sense of normalcy where we go at least a day without a headline that keeps us up at night. But the desire for it to- that's what this song is about."
The "Got What I Got" singer was also criticized for choosing to film the video at the Maury County Courthouse.