County election security policies in Kansas don't appear to be strong or detailed enough, and the state doesn't appear to be giving counties enough guidance on how best to oversee voting, according to an audit released Thursday.
The report from the auditing arm of the Republican-controlled Legislature is the second on election security issues this year and was initiated amid an ongoing circulation of baseless election conspiracy theories among GOP conservatives. The first report, released in February, said auditors couldn't tell whether county election workers are being adequately trained "because no one tracks this, and state law says very little about it."
Like their counterparts in other states, Kansas supporters of former President Donald Trump have suggested that fraud is a major issue in the state's elections despite the lack of evidence of a significant problem. However, rather than attempt to bolster or undercut such claims, the two audits this year have focused on election procedures and whether they represent election security gaps.
For the latest report, auditors examined election security procedures in 15 of the state's 105 counties and found that none of those counties had comprehensive security policies or guidance. The audit said most of the counties had inadequate procedures for testing voting machines' accuracy after elections or for securing their voting machines from unauthorized access while they are deployed.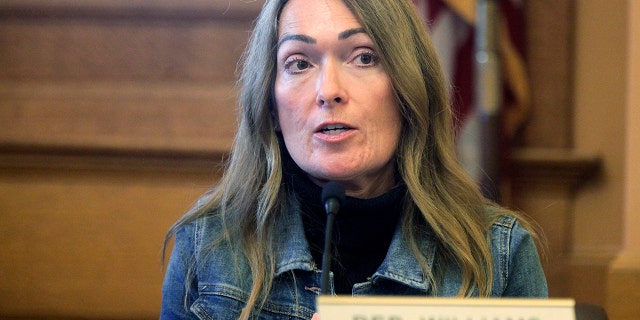 Kansas state Rep. Kristey Williams speaks during a meeting of a legislative committee regarding an audit on county election security policies, on July 6, 2023, in Topeka, Kansas. (AP Photo/John Hanna)
Asked whether the Kansas secretary of state's office might have separate sets of guidance for the most populous counties and the others, state elections director Bryan Caskey said: "To me, there's 105 ways of doing things, not two."
Secretary of State Scott Schwab's office pushed back on auditors' suggestion that it isn't providing enough guidance on security issues to county officials. Its formal response to the audit said its training for election officials deals with security issues and the office is working on more standardized policies and forms.
KS WOMAN WHO WAS FATALLY INJURED IN POLICE CHASE CRASH WAS FLEEING SCENE OF SHOOTING, ACCORDING TO AUTHORITIES
CLICK HERE TO GET THE FOX NEWS APP
Sen. Ethan Corson, a Prairie Village Democrat and audit committee member, said while lawmakers should encourage Schwab's office to provide more guidance, they shouldn't impose mandates without providing the funding to meet them, especially in rural counties.
"This is a tricky issue," Corson said.