Fox News' Lawrence Jones pressed former Arkansas Gov. Asa Hutchinson on his 2024 White House bid in a heated interview Monday where the host challenged the presidential hopeful on his opposition to many of the key issues "that the modern-day Republican Party stands for."
Hutchinson formally declared his 2024 campaign last month, joining a growing field of contenders taking on former President Donald Trump in the battle for the 2024 GOP presidential nomination.
In his speech announcing his campaign launch, Hutchinson, a former governor of Arkansas, outlined his credentials as a conservative whose "mettle has been tested" over his decades of political service.
FIRST ON FOX: HUTCHINSON'S 2024 BID TO GET BOOST FROM SUPER PAC
Noting the sizable polling gap between him and Trump, the current GOP front-runner, Lawrence asked Hutchinson on "Fox News Tonight" how he plans to compete with bigger names and larger war chests in his bid for the White House. Lawrence said voters perceive Hutchinson as an old-fashioned "typical Republican" with nothing that makes him stand out in a crowded field of candidates.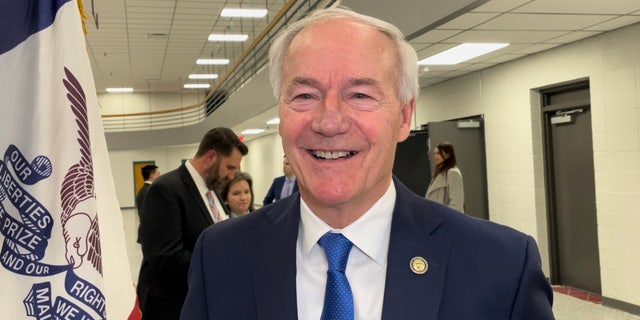 Former Arkansas Gov. Asa Hutchinson is interviewed by Fox News, on April 22, 2023 in Clive, Iowa (Fox News)
"Well…there are people out there that would like to see me run for president. But there is certainly a gap between myself and Donald Trump who is right now leading the ticket on the Republican side," Hutchinson replied. "But that's why you have campaigns. That's why you have choices. That's why I am able to talk about the economy, my experience in law enforcement. There's no one that has more experience in law enforcement than me in terms of dealing with our border security issues and dealing with crime…"
Hutchinson, 72, invoked his record as a former federal attorney turned two-term congressman who served as Drug Enforcement Administration administrator and Department of Homeland Security undersecretary under then-President George W. Bush, telling Lawrence that it "might be helpful" to have a president who "understands the rule of law."
Hutchinson is a vocal GOP critic of Trump. Pointing to the Jan. 6, 2021 attack on the U.S. Capitol by Trump supporters aiming to upend congressional certification of President Biden's 2020 victory over Trump, which the then-president has been accused of fueling, Hutchinson previously told Fox News, "I do believe that he disqualified himself and should not serve our country again as a result of what happened."
Turning to Hutchinson's support for the U.S. to continue funding the fight in Ukraine, Jones cited an Axios poll that found just 42% of Republicans see eye-to-eye with him on the issue.
"The Republicans have spoken in all of the polling data, and they don't support this. They supported it initially, and now they want to pull back on it. Is that something you are willing to change to gain their vote?" Jones asked.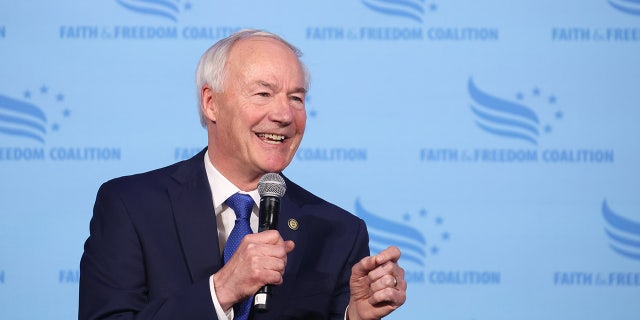 CLIVE, IOWA – APRIL 22: Republican presidential candidate former Arkansas Governor Asa Hutchinson speaks to guests at the Iowa Faith & Freedom Coalition Spring Kick-Off on April 22, 2023 in Clive, Iowa. Iowa is scheduled to hold the first Republican presidential nominating contest of 2024, on Feb. 5.  (Scott Olson/Getty Images)
"Well, I'm supporting our funding of the fight in Ukraine because if we show weakness there then you're gonna have our aggressors take more significant action like China toward Taiwan,' Hutchinson said. "But Russia will not stop at Ukraine. There is a national interest in our support of Ukraine. Yes, this is a debate in the Republican Party. You've got the isolation wing and those that believe America needs to leave."
When Jones asked where he intends to draw a "red line" on foreign aid, Hutchinson fired back.
"Well, you don't need to draw a red line. You need to support those that are being oppressed against the oppressor. Right now that is Ukraine," he said. "Now, hopefully we can stop it there. Hopefully, Ukraine, as they have stood up very bravely, will have the continued support of the Western world to fight against aggression. To me, that is the best instincts of Americans but also our history."
The conversation took a fiery turn when Jones pressed Hutchinson on his position surrounding puberty blockers, noting that he once vetoed a bill that would have stopped doctors in Arkansas from treating transgender youth with hormones, puberty blockers or surgery.
"I don't support puberty blockers as you said," Hutchinson clarified. "I actually support the decision-making of parents. I vetoed a bill because it went too far. It was extreme in my judgment…there have been other bills of come up that have been more balance that are appropriate. But it's really a matter of are we going to support parents if it's not a life-threatening issue and that was the difficult decision that I had to make."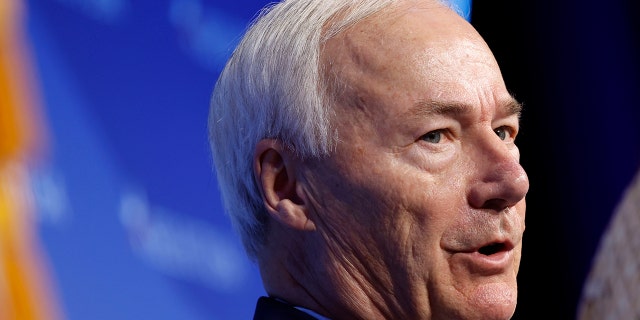 Asa Hutchinson, former governor of Arkansas, speaks on a panel during the SelectUSA Investment Summit in National Harbor, Maryland, US, on Monday, June 27, 2022.  (Ting Shen/Bloomberg via Getty Images)
FIRST ON FOX: NEW MOVES BY SEN. TIM SCOTT SPARK MORE 2024 SPECULATION
"Respectfully," Lawrence interjected. "I'm sorry governor. You're in a Republican primary. That may be the opinion of independents. That may be the opinion of Democrats. That may even be the opinion…in the Libertarian Party…they may welcome you in. But we have Republicans saying this is a fundamental issue for them. How do you square that in a Republican primary?"
"Some may say that's why you're pulling lower than 1% in the RCP average," the host added.
Hutchinson said the debate on the issue should be focused around the "role of the state."
"It's to protect life. We have the number one pro-life state in the nation in Arkansas," he argued. "…I banned biological males from competing women's sports. Those are important decisions that the role of the state is critical. But it's always fair…"
"I believe there are two genders. God created two genders. I believe in that," Hutchinson later added.
"Those are the typical Republican positions. That would work back in 2008. Even 2006. But there is a different Republican Party now" Jones retorted. "When I asked you the question, why are you running? It seems like you are opposed to all of the things that the modern-day Republican Party stands for."
CLICK HERE TO GET THE FOX NEWS APP
Hutchinson, who rejected Jones' characterization, fired back.
"We lead in this country on conservative principles. Whenever you're looking at our values I stand second to none in terms of fighting for pro-life values and conservative values," he said. "Look at my record, and you'll see that."