Gov. Ron DeSantis said he doesn't expect to lose his battle against Disney World after the board he appointed announced it would countersue the amusement park.
"I said very clearly they're going to live under the same laws as everyone else," the Florida Republican said at a press conference on Monday. "They're not going to have their own government."
The Central Florida Tourism Oversight District board announced its countersuit Monday, responding to a lawsuit Disney filed against the board, its members and DeSantis last Wednesday. Disney's suit alleges that the governor was waging a "targeted campaign of government retaliation" after the board nullified an agreement between the entertainment giant and a previous board.
WATCH FOX NEWS DIGITAL ORIGINALS HEADLINES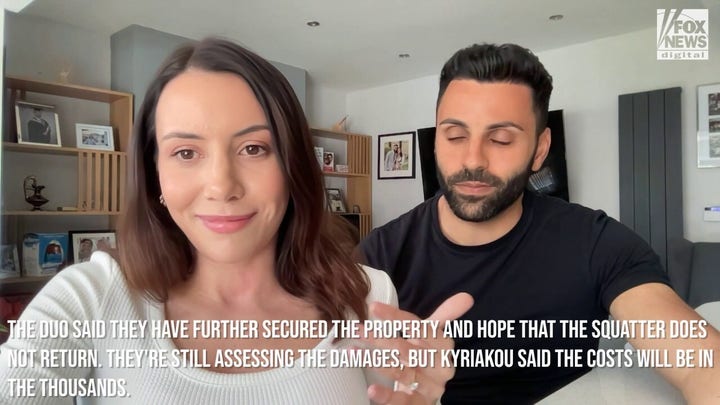 Video
WATCH MORE FOX NEWS DIGITAL ORIGINALS HERE
"They're just trying to pursue an agenda and trying to pursue a narrative," DeSantis said about Disney's supporters.
"The reality is there's a lot of people who always used to criticize this arrangement that Disney had as being corrupt, as being unfair and then the minute I was the one to come in to help unwind it, then they flipped just because they wanted to go against me," he continued, blaming partisanship.
A summons was issued against DeSantis by the U.S. District Court for the Northern District of Florida last week while he was in Israel for a state trip.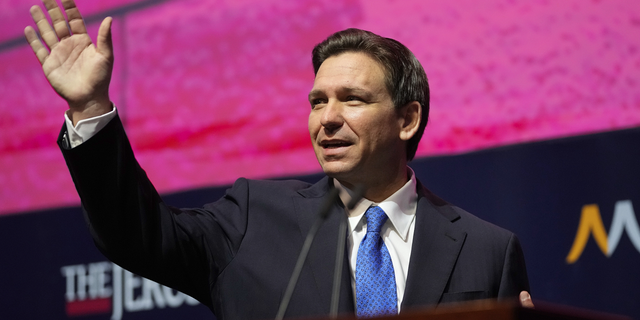 Florida Gov. Ron DeSantis waves as he arrives to a conference titled "Celebrate the Faces of Israel" at Jerusalem's Museum of Tolerance on April 27, 2023. (AP/Maya Alleruzzo)
'DIS'-NEY WORLD: TRUMP TAKES AIM AT DESANTIS' FEUD WITH 'CORPORATE KINGDOM'
"You're seeing people shill for a multinational corporation to have special benefits and corporate welfare, as if that is something that is really important," DeSantis said. "The issue is more than just one company. I think the issue is about who governs in our society."
The DeSantis-appointed board claimed it had "no choice now but to respond" to Disney's suit and passed a motion to take legal action in state court to ensure it has oversight of design and construction in its district.
Shortly before DeSantis signed a bill in February revoking Disney's self-governing power, the Reedy Creek Improvement District that oversaw the Disney transferred much of its power to the park. This action left the incoming Central Florida Tourism Oversight District board without significant oversight powers on Disney when it took over.
DESANTIS STRIKES BACK: FLORIDA GOVERNOR CALLS FOR PROBE INTO MOVE LETTING DISNEY RETAIN SELF-GOVERNING POWER
Disney's lawsuit challenges the legality of the DeSantis-appointed board to govern the district and asks the judge to nullify his efforts to take it over.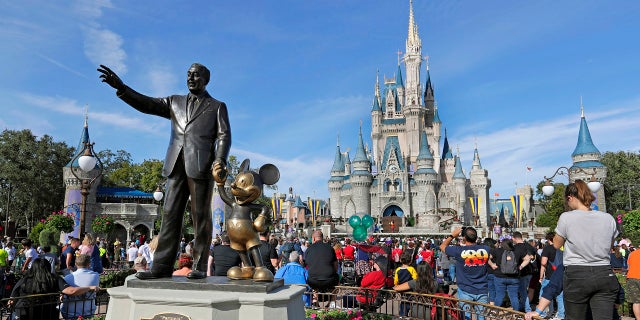 A statue of Walt Disney and Micky Mouse stands in front of the Cinderella Castle at the Magic Kingdom at Walt Disney World in Lake Buena Vista, Florida, in January 2019. Disney recently filed a lawsuit against Florida Gov. Ron DeSantis.  (AP/John Raoux)
DeSantis accused Disney of opposing Florida voters who supported reining in the park's power.
"For them to act like they have the ability to veto that basically is putting their thumb in the eye of the voters of the state," he said, calling the agreements invalid.
He also said he believes the Florida legislature will invalidate the agreements made by the previous board.
'CORPORATE KINGDOM': DESANTIS-BACKED PLAN TO TAKE CONTROL OF DISNEY'S LAND ANNOUNCED
"I do think the legislature is going to pass a bill that I'll sign that will also, from the legislative perspective, revoke it," he said. "All they're trying to do is uphold the will of the people in terms of what we did to make sure that nobody's governing themselves as a major corporation."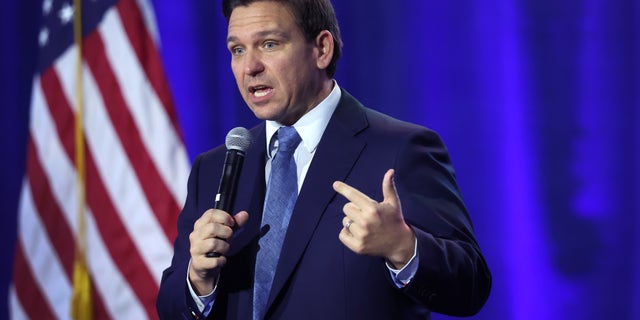 DeSantis has sparred with Disney ever since the corporate giant came out against the Parental Rights in Education legislation. (Scott Olson/Getty Images)
CLICK HERE TO GET THE FOX NEWS APP
DeSantis last month asked Florida's chief inspector general to investigate the previous board's move to forfeit its power.
"Disney is again fighting to keep its special corporate benefits and dodge Florida law," DeSantis' deputy press secretary, Redfern Jeremy, said at the time. "We are not going to let that happen."
Disney did not immediately return a request for comment.